Loop the Loop - Ambulance Appeal
.
The weather forecast had been a bit alarming with heavy showers forecast for 18.00hrs at Dunstable Downs on Friday 22nd May; that was the time for our 'Loop-the-Loop in a Glider' challenge. However, at the last minute the forecast was for dry conditions much to the relief of the fourteen volunteers who had arrived at the London Gliding Club to face their challenge.
.
At the last minute there was a report that there would be a delay of up to one hour because the local airspace had been closed as a safety precaution while the authorities exploded a bomb, found the day before at Wembley, in a nearby quarry. After a small bang was heard in the distance the all-clear was given!
.
We had two tug planes and four gliders to take our volunteers up to 2000 feet under tow, before the gliders were released to perform a loop-the-loop. In fact many flights performed several loops and other aerobatics before returning to the airfield. The challenge was to raise funds in support of our 'Hazel's Ambulance Appeal', set up in memory of the wife of Rotarian Brian Stuart who passed away in November 2014 at Willen Hospice.
.
Rotary District Governor Jenny Muir was the first up to take the challenge, and could not stop smiling when she landed. She thought it was a wonderful experience but a bit scary. The remainder of our intrepid volunteers too enjoyed the challenge; thank you to all of them for their brave efforts. The event raised the fantastic sum of £5,400
.
Inner Wheel supports Ambulance Appeal
.
A big thank you to the Inner Wheel Club of Wolverton which held a social evening in November at the National Badminton Club, to raise funds for the ambulance appeal. The entertainment was provided by 'We Three' who performed favourite songs and monologues.
.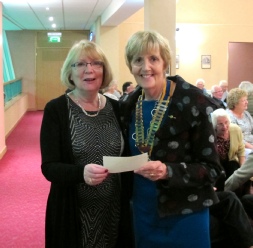 .
Pictured above is Inner Wheel Vice-President Viv Love presenting a cheque for over £550 to Rotary President Ann Waters.
.
Quizzed up for the Appeal
Rotarian Alan Harradine is well known for his quiz competitions so it was no surprise when he volunteered to run one for the ambulance appeal. Thank you to all who entered the competition and helped our appeal fund to the tune of £750.
.
.
.