.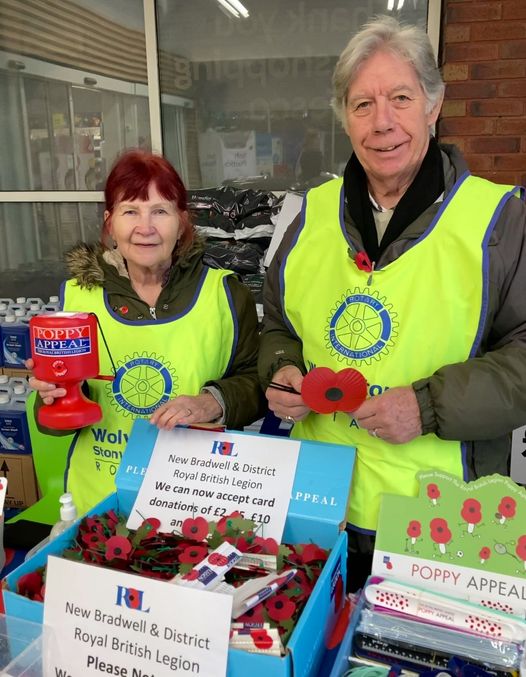 .
Poppy Sales
.
Your local Rotary Club helped the Royal British Legion by hosting the poppy sale stall at Wolverton Tesco Store for 10 days. Thank you to all who visited our stall and donated.
.
.
Photo reproduced with kind permission of Lendwithcare
Helping Entrepreneurs in Developing Countries
.
Wolverton & Stony Stratford Rotary is celebrating a landmark charitable achievement as one of hundreds of Rotary Clubs from across the country to contribute in total over £1 million to Lendwithcare.
LendwithCare is a microfinance lending website from the development charity CARE International UK. Launched in September 2010, it allows individuals and groups to make small loans to entrepreneurs in developing countries, and help them work their way out of poverty. These can be farmers, tailors, market stallholders and food producers to name just a few of the types of businesses Rotary have helped. Wolverton and Stony Stratford Rotary Club has been pleased to lend, so far, a total of £2284 in loans to entrepreneurs in eleven countries.
.

.
Club Meetings
.
Sun. 10th October: Rotary District 1260 Conference, Grove Theatre, Dunstable
.
Tues. 12th October 6.15pm: Cock Hotel
Speaker, Councillor Adrian Moss, Mayor of Wolverton
.
Tues. 19th October 6.15pm: Cock Hotel
Club business meeting
.
Sat. 23rd October. Invitation to a Tastes of the World Social Evening organised by the Inner Wheel Club of Wolverton, Great Linford - details from Rtn. Chris
.
Tues. 26th October 6.30pm: Cock Hotel
Guests' Open Evening to showcase Rotary projects
This event is to express our appreciation and thanks for all the support we receive from the public and to showcase some of our successful local, national and international projects. Also, an opportunity to think of new ways we can continue to support our community. Complimentary drink on arrival and buffet - if you would like to come along please 'click' the contact tab on the menu bar at the top of the page.
.
Tues. 2nd November 6.00pm: Voongs Restaurant, Bletchley - details from Rtn. Indra
Meal & social evening
Tues. 9th November 6.15pm: Cock Hotel
Club business meeting
Tues. 16th November 6.15pm: Cock Hotel
Fellowship. Speaker from Chiba Film rescheduled to a later date
Tues. 23rd November 6.15pm: Cock Hotel
Speaker: Neil Murphy, Director, Town Development Co.
Details from Rtn. Allan N
The Agora Redevelopment Scheme
Tues. 30th November 6.15pm: Cock Hotel
Fellowship
Tues. 7th December 6.15pm: Cock Hotel
Discussion about our upcoming Santa Float collections.
Tues. 14th December 6.15pm: Cock Hotel
Club business and SGM
Tues. 14th and Tues 21st December. No club meetings as we will be busy with Santa collections!
.
NEW ARRANGEMENTS FOR CLUB MEETINGS WITH EFFECT FROM 4TH JANUARY
Tues. 4th January 6.15pm: Cock Hotel
.
Tues. 11th January 6.15pm: Cock Hotel
.
Tues. 18th January 7.00pm: Cock Hotel
Business meeting. Members welcome to attend before 7.00pm for friendship. Committees may wish also to take the opportunity to meet before 7.00pm
.
Tues. 25th January 6.15pm: Meeting via Zoom, link available from Club Secretary
.
Message from President of Rotary International
https://cdn2.webdamdb.com/md_wXN5hVeVmG29ViP9.mp4?1626981413
Rotary Magazine
Read the latest news from around Great Britain & Ireland
http://www.rotarygbi.org/magazine/
.
Members' News
It is with regret that we leant that honorary and founding member Norman Cosford passed away in October at the age of 101. Norman, of Chard in Somerset, always looked back with fondness at his time as a member of our Rotary Club. Our thoughts are with his family at this sad time.
.
Our thoughts are with Gareth and the rest of his family following the death of honorary member Marshall Pobjoy PHF, who passed away on 26th August. A lovely gentleman. Marshall moved to our area to be near family and became a club member a few years ago having spent many years with Melton Mowbray Rotary Club. A memorial service will be held in Melton Mowbray on 3rd November
.
It is with much regret that we report that John Waters, friend of Rotary and past member & Vice-President of the Club, passed away on 7th July following a short illness. John was very popular with members past and present. He served our Club with great dedication and will be particularly remembered for his friendly manner, sunny disposition and sense of humour. Oh, and not forgetting that he organised three most enjoyable 'club away weekends' visiting Kent, Stourbridge and Stratford-upon-Avon. We will remember John with great affection.
.
It is with sadness we note that honorary member Alan Harradine passed away on 26th December after a period of illness. Alan was a very dedicated, inspirational and hard working member of the Club for over 20 years and will be missed by many. A past Club President he will be particularly remembered for instigating and organising the Milton Keynes Rotary Technology Tournament which has inspired many hundreds of young aspiring engineers of the future. Alan was honoured by the Club for his service to Rotary with two very well deserved Paul Harris Fellowship awards.
.
We are also sad to report that Colin Richardson passed away in March. Colin was a a very good friend to Rotary and supported many of our social and charity events.
.
Our very best wishes to Steve Tucker, who left the Club on 31st December, as he and his wife Deborah are relocating away from the Milton Keynes area.
.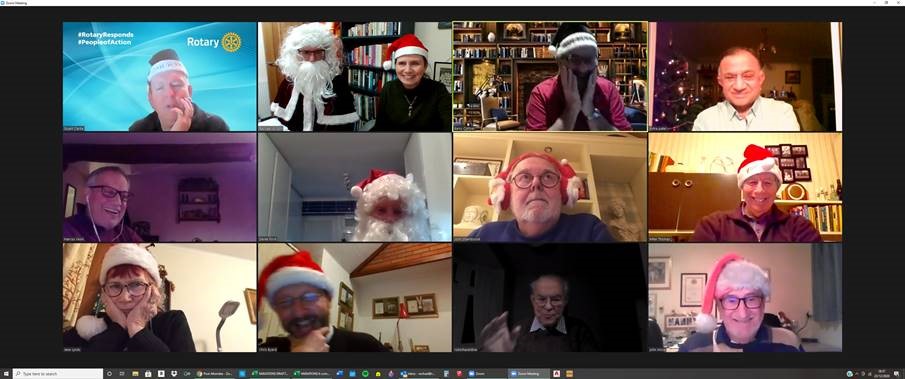 .
Which one is the real Santa?
.
Our last meeting of 2020 was also our Christmas party. Members dressed up in festive gear for the occasion but held back from the temptation to engage in carol singing! President Stuart wishes all club members and their loved ones a very merry Christmas and a happy New Year.
.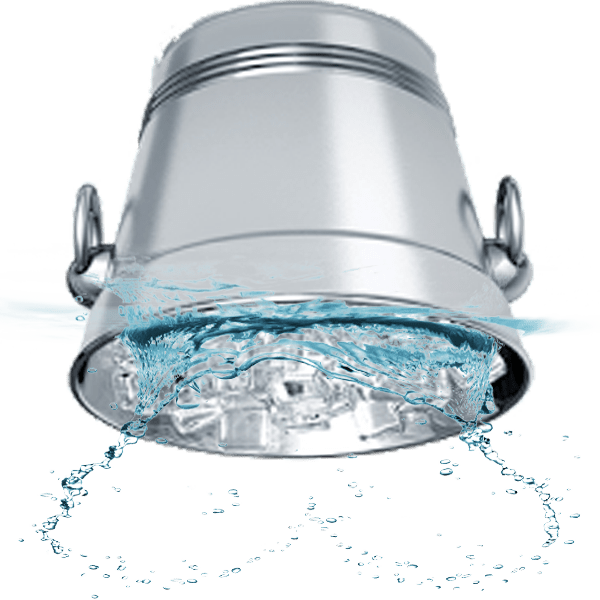 .
Ice Bucket Challenge – Sun. 19th July 12 noon!
.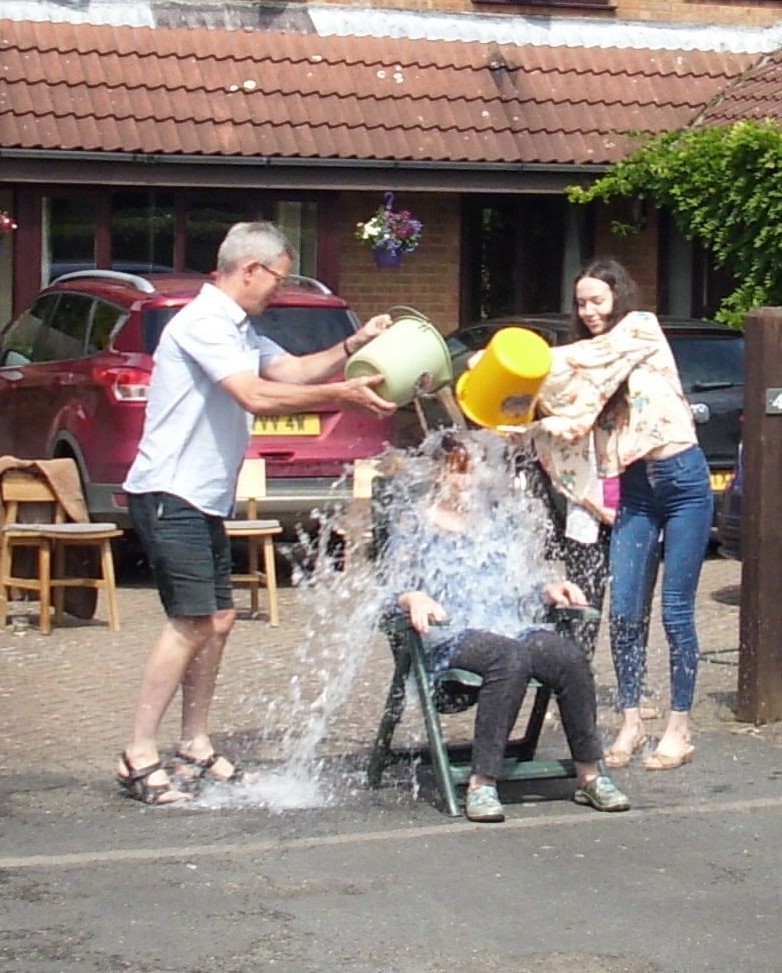 .
"My name is Rachael Wilson, some of you will know me as your neighbour, architect and maybe some would even admit, friend.
I put myself forward for this challenge, for two reasons. Firstly, to continue to raise some money for charities both local and international which have really suffered through this current pandemic. To this effect, my version of the Ice Bucket Challenge was one with a difference, I did not make anyone else get wet! Thank you to everyone who sponsored me and to those who turned up on the day to see me get a soaking. Those who know me well will know I am not a great lover of the cold.
ALL of the money goes to good causes 100% and in some cases, there is match funding so the overall amount could be higher! I am doing this through Rotary which Andrew and I joined just over a year ago and we have been very moved by the excellent work which has been going on for so many years. This is my second reason, to ask you to take a look at our local Rotary pages on this site and on Facebook - see link above. For anyone who is willing and able to give a little of their time it is a great chance to meet like minded people and socialise too. The money raised will go towards the many marvellous charities which Wolverton & Stony Stratford Rotary Club supports."
On behalf of the Rotary Club a big thank you to you Rachael for undertaking this wonderful sponsorship challenge. Rachael has so far raised £675 having bust through her original target of £250; well done. We look forward to your next challenge, whatever it might be!
https://www.crowdfunder.co.uk/ice-bucket-challenge
.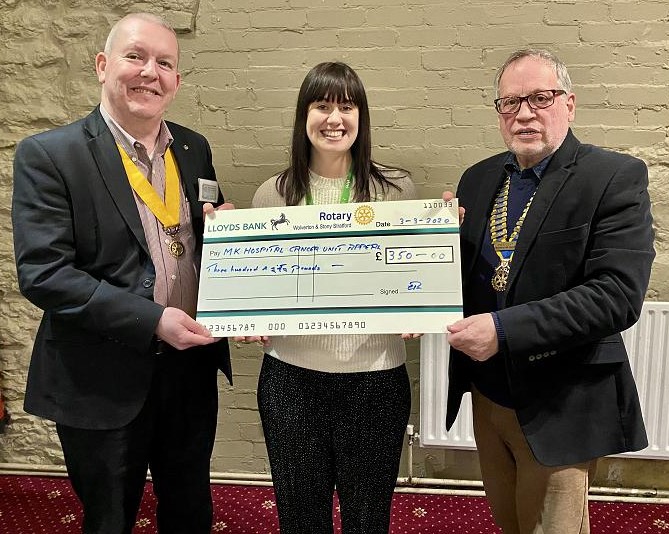 .
MK Cancer Unit Appeal receives Boost
.
The Rotary Club of Wolverton & Stony Stratford has been very pleased to support the Milton Keynes Hospital Cancer Unit Appeal. The new cancer centre, which opened earlier this month, is a dedicated space offering treatment and a wide range of information and support services to anyone affected by cancer, all within a comfortable and welcoming environment. The new centre brings together most treatments under one roof, where previously cancer care was provided in different locations on the hospital site.
At a club meeting on 3rd March a cheque for £350 was handed over by President Marcus Rixon to Jenny Howells, Senior Fundraiser for the hospital charity. This will be followed by a further £650, funded out of our Christmas collections at Sainsbury's in Milton Keynes, but a handover date has been delayed due to the coronavirus pandemic. And finally, Wolverton & Stony Stratford Rotary Club will join with three other local Rotary Clubs (Bletchley, Milton Keynes Grand Union and Woburn Sands & District) to hand over £2,000 later in the year.
.
Update: We have made a further two donations to the Cancer Unit Appeal, £650 from our Santa's Float collections last December at Sainsbury's, and £500 for our share of the MK Rotary Clubs' Joint Donation of £2,000.
.
.
Welcome
.
A warm welcome to our newest club member Steve Tucker. Steve, we hope you will have as much fun as we all do with our social events and charitable projects.
.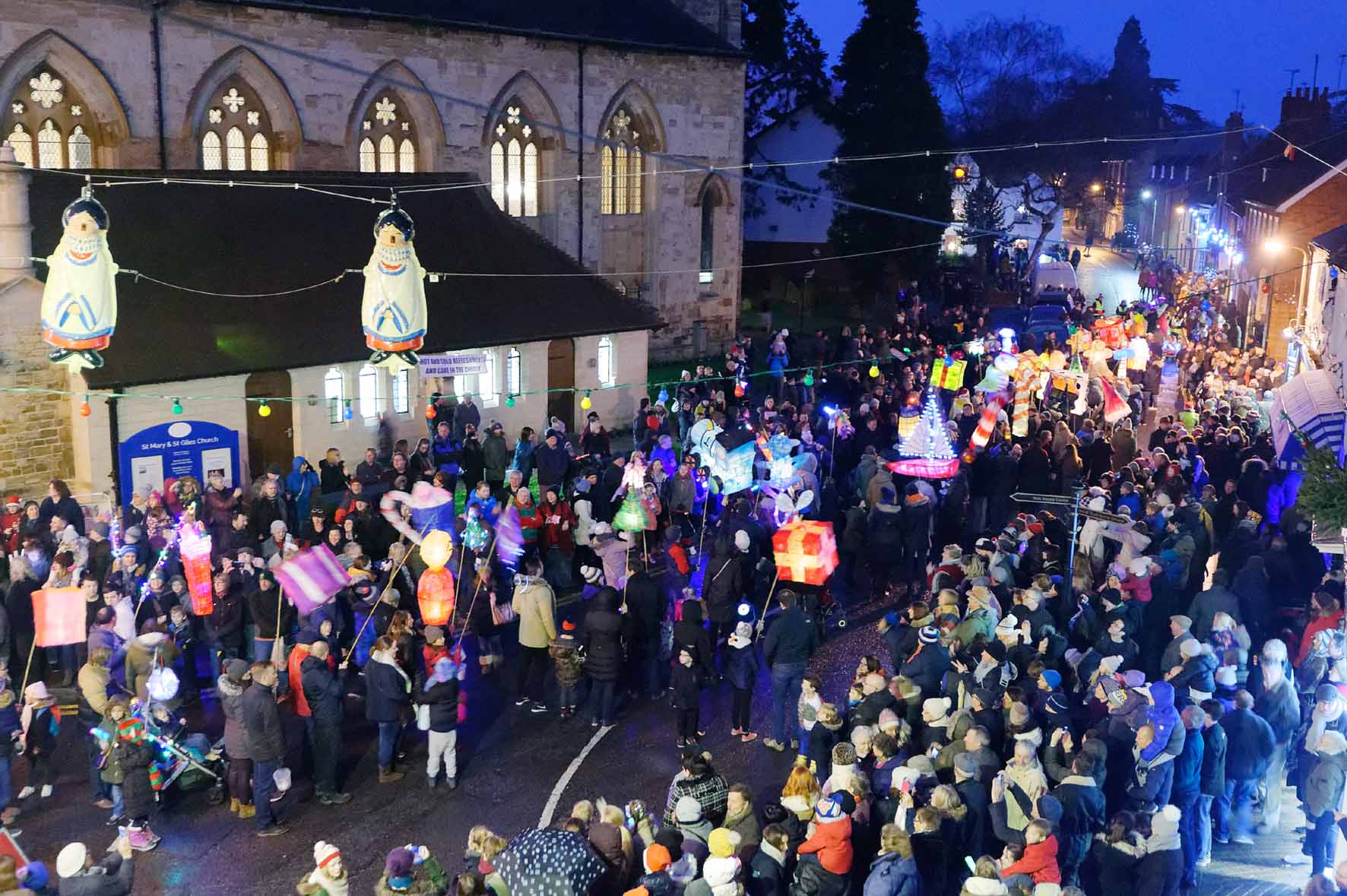 .
Stony Lights Fayre Sat 30th November 2019
.
Another fantastic day on our mulled wine stall at the Stony Lights Fayre dispensing warming mulled wine, shots of brandy and delicious mince pies and reindeer biscuits. Thank you to Alan Swann for organising everything, to all our helpers on the day, to MacIntyre Care for supplying all the very tasty mince pies & biscuits, and to the general public for their wonderful support. We achieved a record profit of over £1500, which will go towards all our very deserving community causes including Willen Hospice and the MK Hospital Cancer Unit Appeal.
.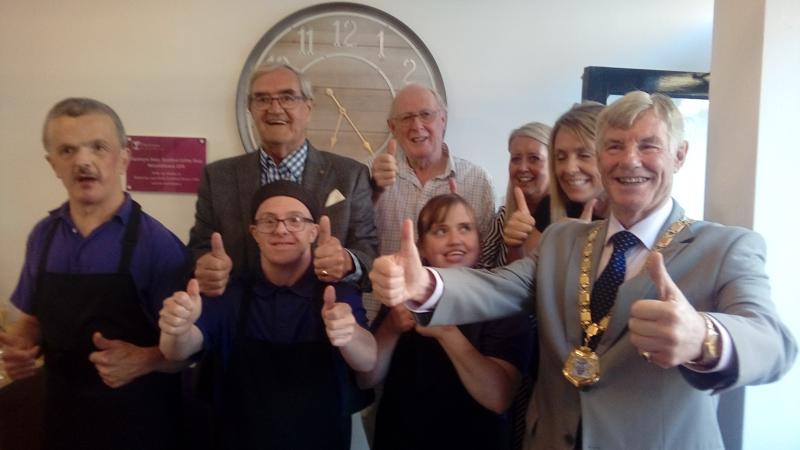 .
It's official, MacIntyre Café now Open
.
On Thursday 5th September 2019 MacIntyre were delighted to welcome the Milton Keynes Mayor, Sam Crooks, members of Wolverton & Stony Stratford Rotary and others who have contributed to the refurbishment of MacIntyre's Coffee Shop in Stony Stratford to celebrate the official opening. The refurbishment was completed in late Spring and has been doing a roaring trade since then; please go and visit for a very warm welcome and some delicious food.
.
.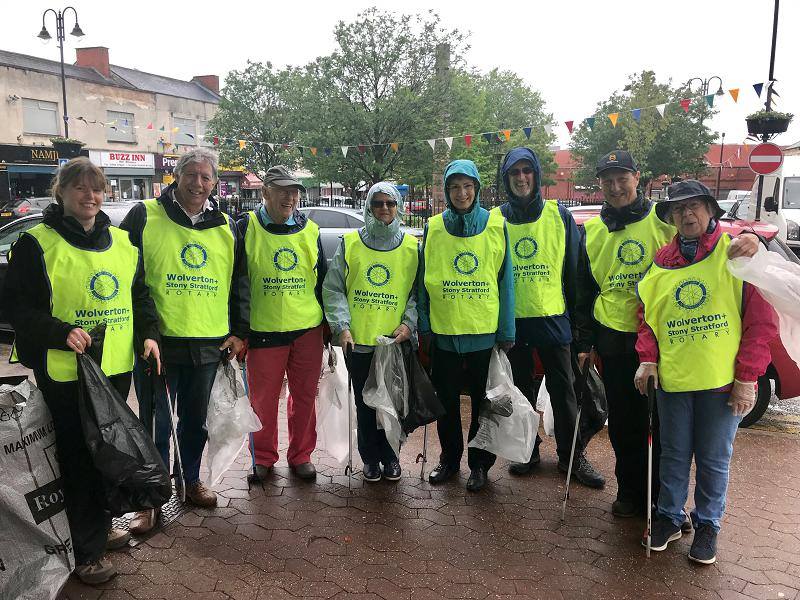 .
Team Rotary
.
It might have been wet, it might have been windy, but that did not stop our team turn out to do a litter pick in Wolverton on Saturday 8th June 2019. Our club joined many other Rotary clubs throughout Great Britain and Ireland on 'Rotary Pick Up Plastic Day'. We collected twenty bags of rubbish and with perfect timing Milton Keynes Council's contractor, Serco, turned up at the end of our stint to collect the spoils. Many thanks to Wolverton & Greenleys Town Council which loaned the 'pickers', MK Council and Serco, and last but not least Rotarian Stuart who organised the whole thing and of course our team of willing volunteers.
.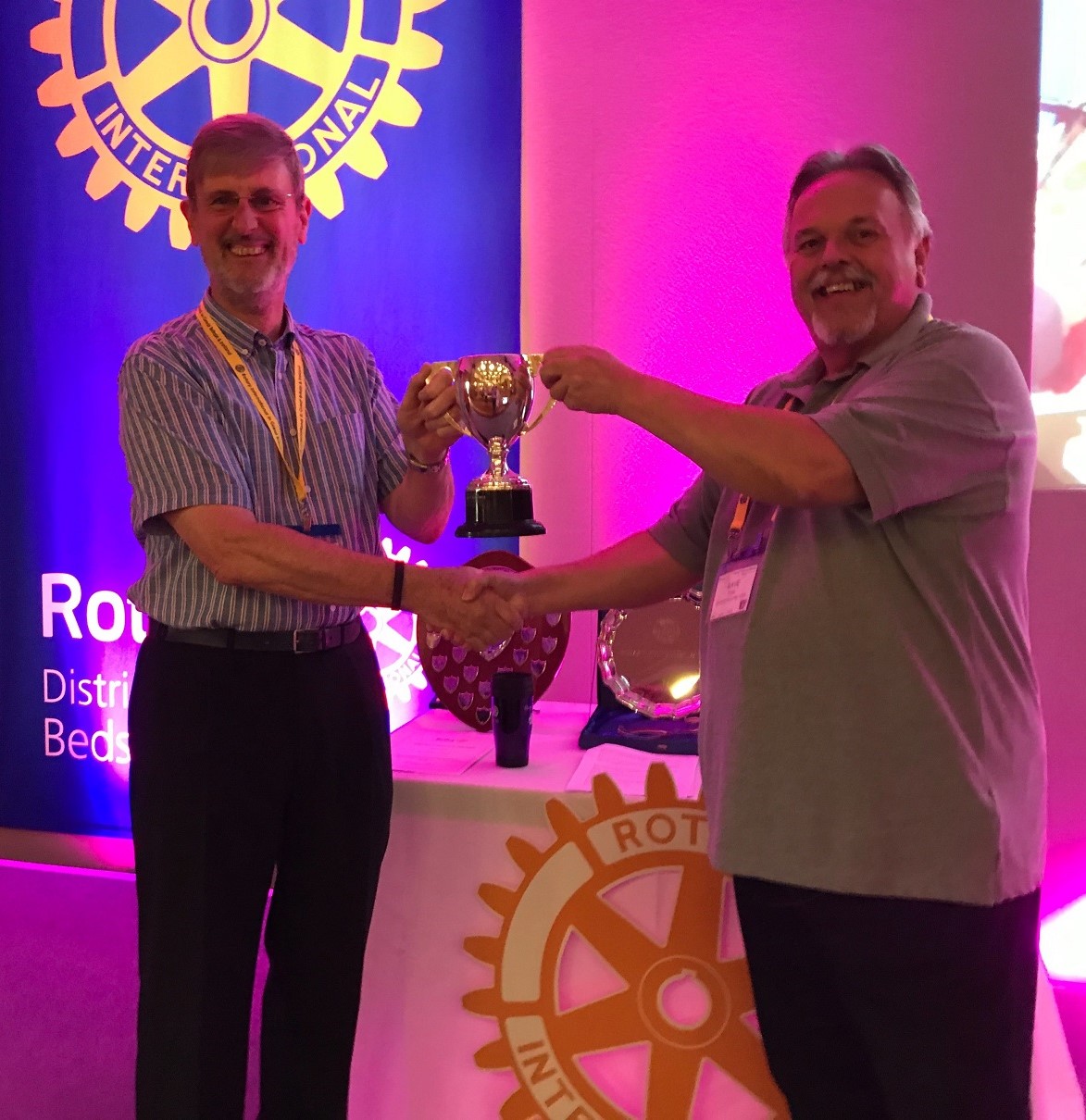 .
We scoop District Community Trophy
.
At last weekend's district conference in Kenilworth (21st-23rd June 2019) our club was presented with the district 1260 community service cup. Pictured is Club President Alan Swann being presented with the trophy by District Governor Dave Ford for our local community work over the last 12 months. Our recent litter pick on a very wet Saturday, the MacIntyre coffee shop project, the Santa collections for local charities, the donation to the MK Cancer Unit Appeal, our use of social media and the web site plus our support of conference, were all mentioned as contributory factors to the award.
.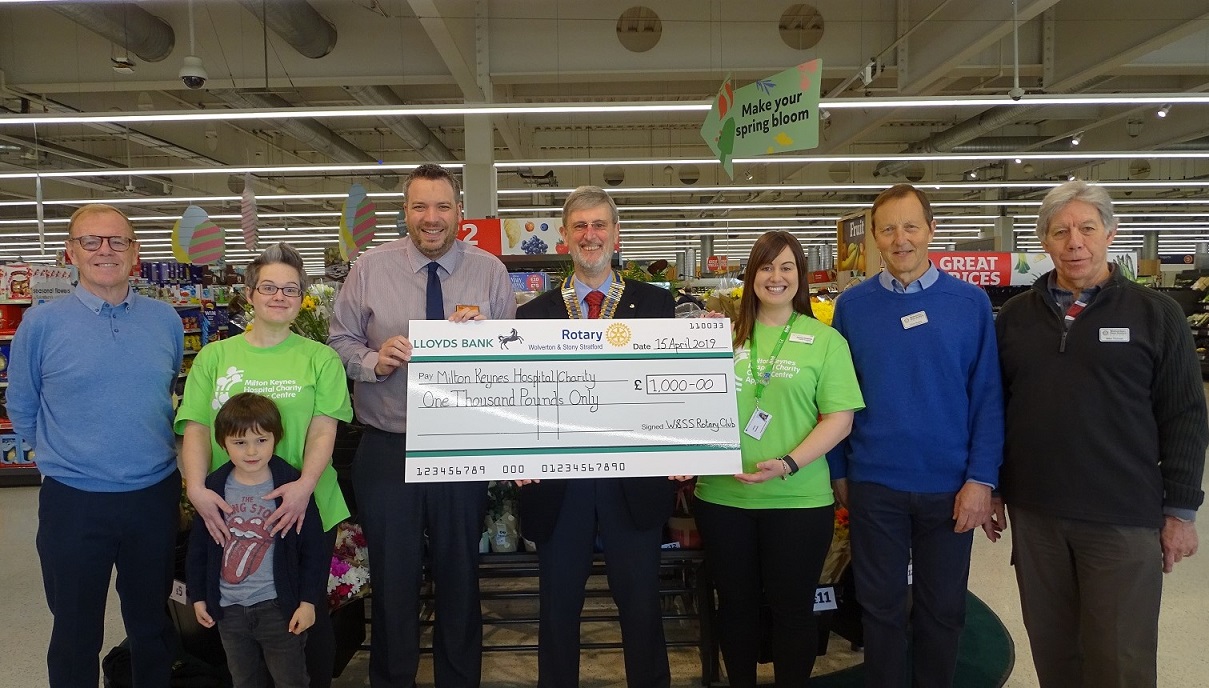 .
Donation to Cancer Unit Appeal
.
Pictured above is President Alan Swann presenting a cheque on 15th April 2019 for £1,000 to representatives from the MK Cancer Unit Appeal looked on by fellow club members and Sainsbury's Store Manager Rob Johnson.
.
The money was raised on one of our collection days with Santa at Sainsbury's, in the run up to last Christmas, and was gifted to the Cancer Unit Appeal, Sainsbury's charity of the year.
.
We are most grateful to customers at the store who gave generously to our collections, with proceeds from the other collection days going to our charity project of the year, the MacIntyre coffee shop refurbishment (Stony Stratford) and other local charities including Willen Hospice.
.
.