.
.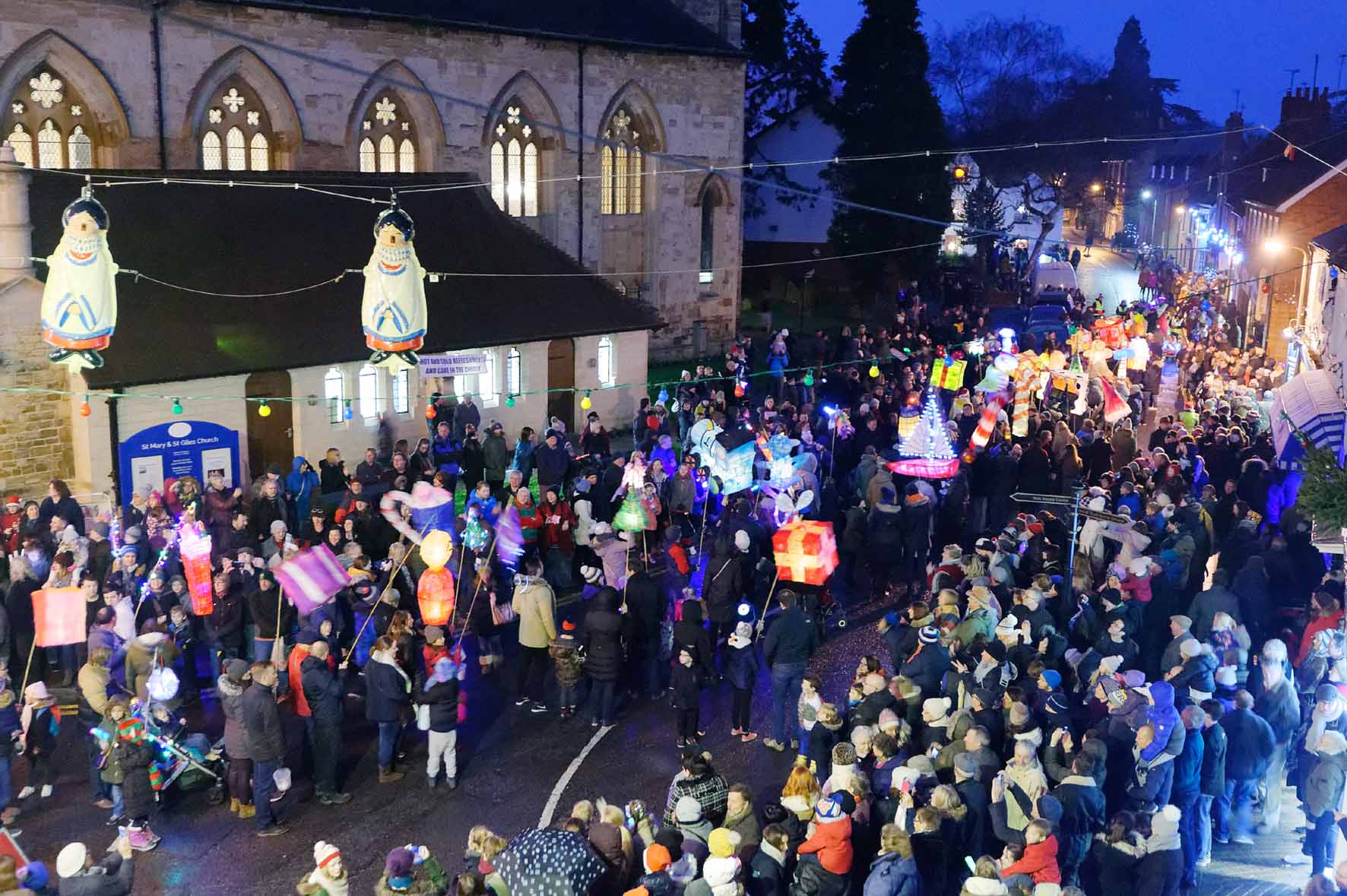 .
Stony Lights Fair
.
We were rushed off our feet dispensing warming mulled wine, shots of brandy and delicious mince pies at our stall at the Stony Stratford Christmas Lights Fayre on 1st December 2018. Thank you to Bernard Garvey and Alan Swann for organising everything, to all our helpers on the day, to MacIntyre Care for supplying some very tasty produce and to the general public for their wonderful support. We achieved a record profit of over £1400, smashing by far previous records, which will go towards our MacIntyre Care Café kitchen refurbishment project.
.
.
Christmas Carols Service
.
We all enjoyed a very traditional Christmas Carols Service at Furtho Manor Farm Church, followed by an evening meal and entertainment, on 11th December. Thank you to David & Diana Sansome, our hosts, and to the Cosgrove Church Choir. Thank you to Rotarian Ann Waters for organising the event in collaboration with Cosgrove Church and to all who attended or helped on the evening. Proceeds from ticket sales and the prize draw raffle raised a profit of £1800, which will be split equally between our MacIntyre Café kitchen refurbishment project and the Cosgrove Church repairs appeal.
.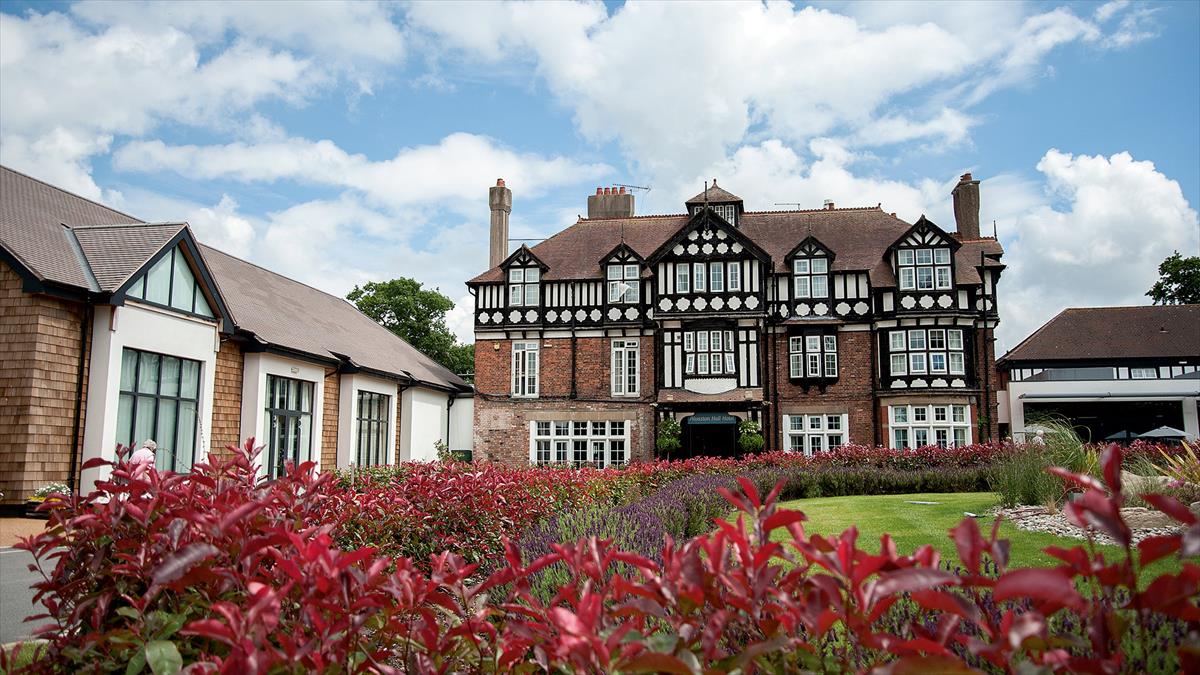 .
Week-end away
.
Thank you to John and Ann Waters for organising a very enjoyable 'club week-end away' break at the Alvaston Hall Hotel in Nantwich, Cheshire. Plenty of good food, lively entertainment and congenial company.
.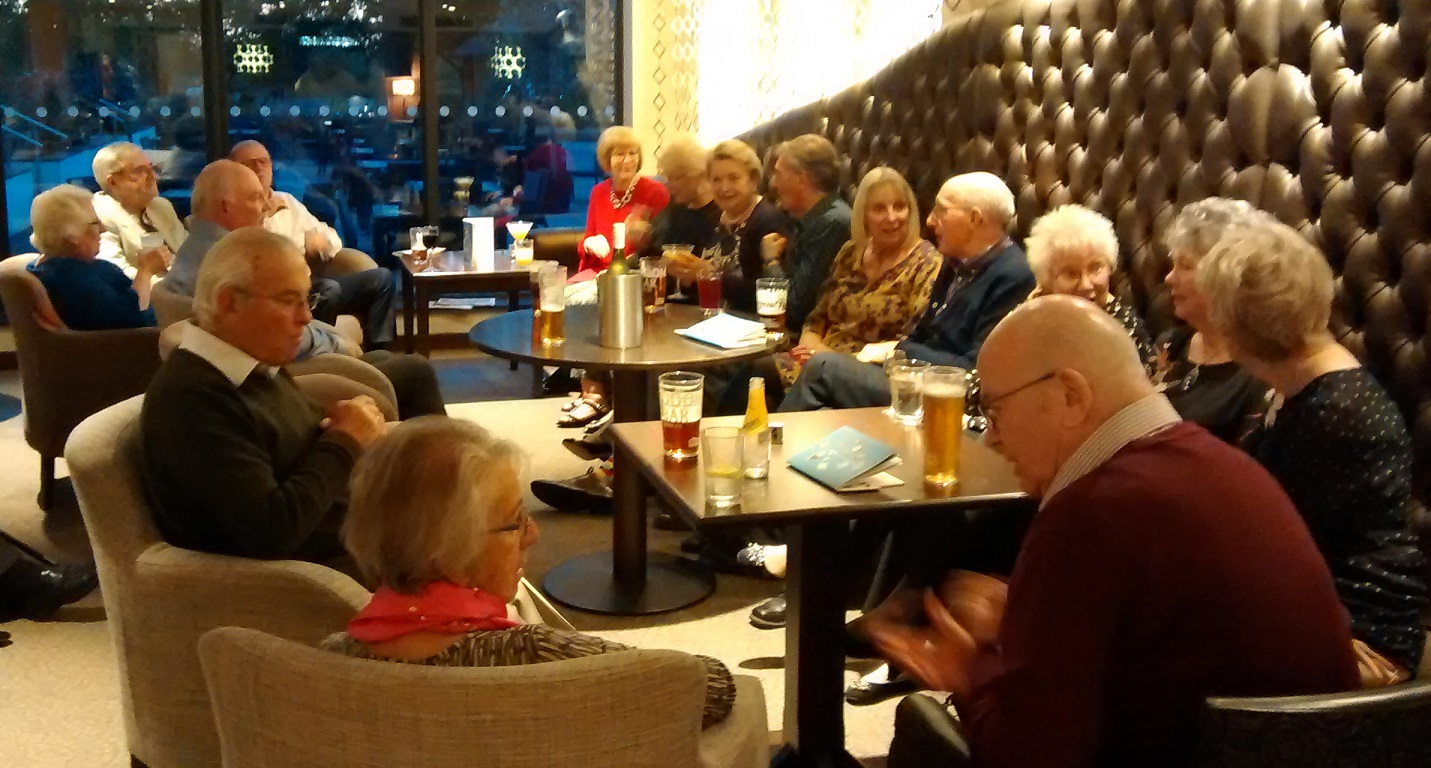 .
McCarthy & Stone's Generosity Boosts Rotary's MacIntyre Project
.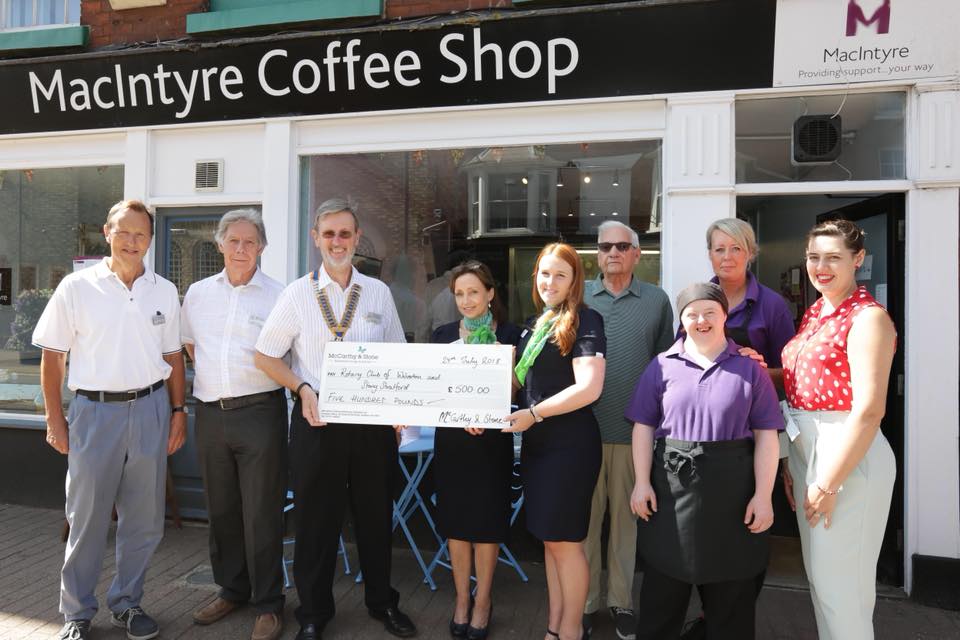 .
McCarthy and Stone, the housebuilder behind the new Retirement Living Plus development Elizabeth House in Stony Stratford, has recently (24 July 2018) given the Rotary Club of Wolverton and Stony Stratford a most generous donation of £500 towards its current MacIntyre Coffee Shop kitchen refurbishment project.
Several Rotarians and MacIntyre staff gathered at the Coffee Shop in Stony Stratford High Street when McCarthy and Stone's Sales Executive, Teresa Staroscik, presented Alan Swann, President of Wolverton and Stony Stratford Rotary Club, with the cheque.
Alan said: "This is a wonderful gesture from McCarthy and Stone. We are well on our way to reaching our target and this donation will be a great help in bringing the much needed new kitchen that much nearer to completion. On behalf of Rotary and MacIntyre we say a very big thank you. "
McCarthy and Stone Sales Executive, Teresa Staroscik, added: "As a company, we appreciate our responsibilities go further than building quality retirement apartments, and we also seek to create a positive legacy in the communities in which we build and so it was an absolute pleasure to present this donation. The team at McCarthy and Stone's Elizabeth House development wishes Alan, his members and everyone at MacIntyre every success with the project."
Further information about the Rotary Club, MacIntyre and McCarthy and Stone can be found at www.wolvertonandstonystratfordrotaryclub.co.uk , www.macintyrecharity.org, www.mccarthyandstone.co.uk. or find them on Facebook.
.
Mike Thomas PR & Communications Officer
Wolverton & Stony Stratford Rotary Club
.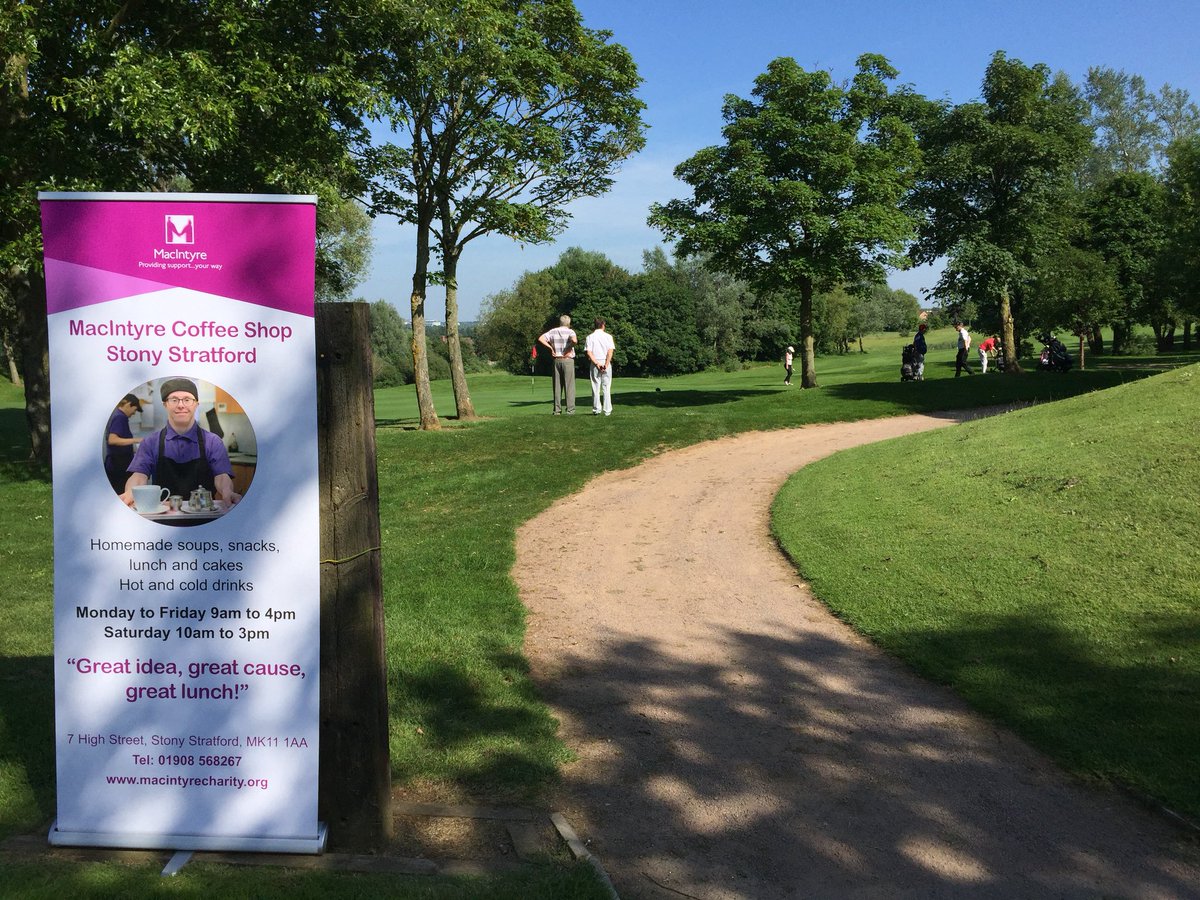 .
Annual Golf Day - Wed. 6th June 2018
.
Well done to all who played at our 11th annual charity golf day at Abbey Hill, to the eventual winners and to everyone who supported the day and attended our prizegiving evening. Conditions could not have been more perfect though several players were overheard blaming their occasional bad shots on the very gentle breeze!! All the proceeds from the day will go towards our kitchen refurbishment project for the Macintyre Café in Stony Stratford. http://macintyre.org
Huge thanks to all our sponsors, to Abbey Hill Golf Club, to everyone who helped on the day and last, but not least, to event organiser Rotarian Jim Barnes.
.

.
Race Night, Tuesday 22nd January, Cock Hotel, Stony Stratford. Details from Rotarian John Welch
.
Club Away Evening, Tuesday 29th January, Wolverton House. Details from Rotarian Ann Waters
.
For our full list of club meetings/speaker events please click on 'diary' tab above
.
Rotary Technology Tournament - 2018.
.
Teams from schools across Milton Keynes competed in the Rotary Technology Tournament on 14th March 2018. The annual event, organised by all the Rotary clubs within Milton Keynes, was held at Denbigh School.
.
Teams of four from 25 schools were challenged to design, construct and test a launcher capable of sending a capsule into space. Marks were awarded for teamwork, design, manufacture, documentation & task completion. An enjoyable experience watching the enthusiasm and ingenuity of all the students. Cash prizes and shields were awarded to the winners of the three class categories.
.
Foundation - Denbigh
Intermediate - St. Pauls
Advanced - Radcliffe
.
The prizes were presented by Peter Kara, High Sheriff of Buckinghamshire and Justin Pearce, General Sales Manager of Aston Martin. Congratulations to all contestants and the eventual winners. Thanks go to the event organising committee chaired by our own Alan Harradine, sponsors Aston Martin, Newport Pagnell, and local Rotary Clubs, participants, judges from the O.U., Network Rail & Rotary, and our hosts at Denbigh School.
.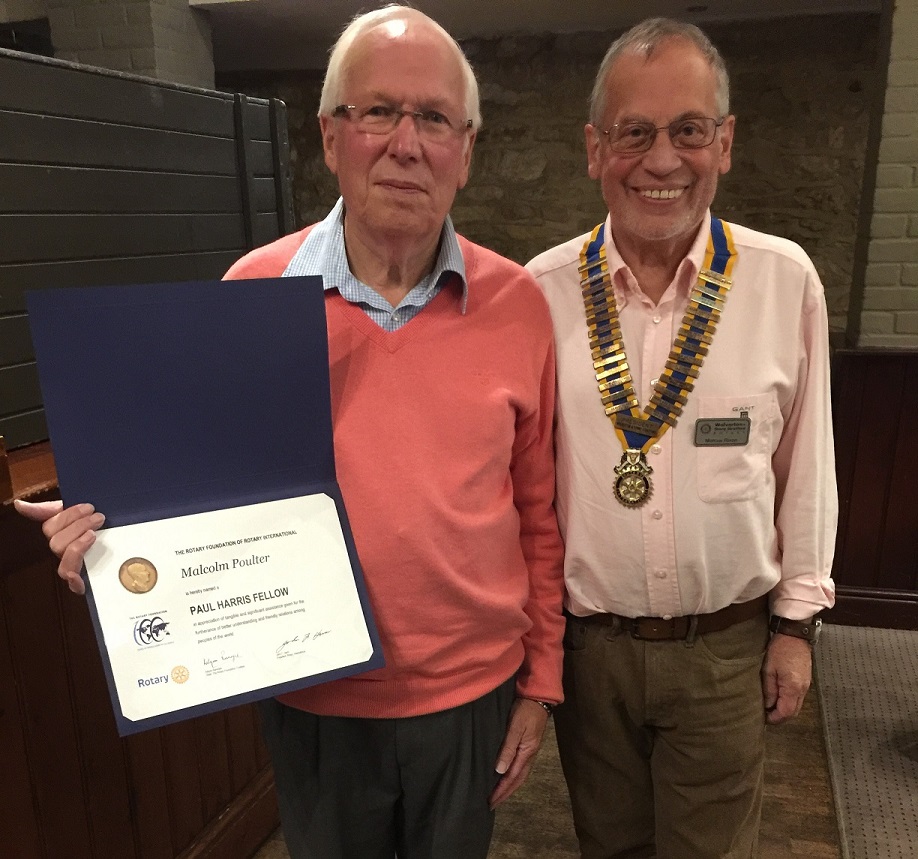 .
Malcolm Poulter
.
It was a year ago in March since Malcolm Poulter passed away and we all remember him with deep affection. Malcolm was a very likeable, caring, inspirational and hard working member of our club and is still greatly missed. A past Club President he will be particularly remembered for instigating and organising our annual golf days which have raised many thousands of pounds for good causes; this competition will reach its 11th anniversary this June. Pictured above is Malcolm receiving a Paul Harris Fellowship award in 2017 - an honour he so very much deserved. Our thoughts are with Pam and her family upon this anniversary of his passing.
.
.
Car Boot Sales
.
What are you doing this week-end? If you are clearing out your loft or garage, and have items you no longer require and do not wish to sell, then please give Rotarian Chris a call. We can convert your pre-loved items into cash, via further car boot and internet sales, to go towards our youth service and children's charities. Thank you President Tom for your (further) recent donations.
.
Our car boot and internet sales of donated goods over the last two years have been very successful (£600 raised in 2016 and £350 in 2017). Can we beat those figures this year?
.

.
Whenever you buy something on line you could be raising a free donation for Wolverton & Stony Stratford Rotary Club.
.
There are over 3,300 retailers including Amazon, John Lewis, eBay, Booking.com and Sainsbury's, ready to give a free donation every time you shop. It's really simple, and doesn't cost you anything extra. All you have to do is:
1. Go to: http://www.easyfundraising.org.uk/causes/rcwss
2. Click Join Us and enter your details and click on Create My Account
3. Choose from over 3,300 retailers, do your shopping as normal and our Rotary Club will receive a free donation at no extra cost to you for every purchase you make
Thank you for your support, you'll be helping to make a real difference to Wolverton & Stony Stratford Rotary
.
Bekash Evening
.
A profit of over £1100 was raised at our fundraising event at the Bekash Restaurant in Stony Stratford on 31st October, in support of SERV the blood bikes charity and LEND with Care.Thank you to Indra Patel and his organising committee and also to restaurant owner Mr Murkit for his generous support.
.
News in Brief
.
Cardiac Arrest in the Young: We recently had a very moving presentation by Donna from Harry's Heart Foundation about cardiac arrest in the young. Donna's son Harry, a very fit 18 year old sportsman, died five years ago from an unknown heart condition. For more details please visit our Facebook page.
.
Thank you to everyone who supported our Chinese evening on 10th April 2018 to raise funds to go towards our trip to the zoo in June for disadvantaged youngsters. A profit of £540 was raised at the event.
.
Thank you to Ann Waters for organising our recent 'away meal' at the Mercure Hotel, Abbey Hill, Two Mile Ash.