.
.

.
Loop-the-loop in a glider challenge, Friday 25th May
Dunstable Downs, see article in right hand column
Details, John Moss
.
BBQ, Furtho Farm, Old Stratford
Tues. 5th June, 6.30pm, details Ann Waters
.
Annual Charity Golf Day at Abbey Hill, MK
Wed. 6th June, details Jim Barnes or contact our club through the contact tab on the top menu bar of this page. Do you have a local business and would you like to be one of our sponsors for the day, in return for some advertising and a mention in our publicity material?
.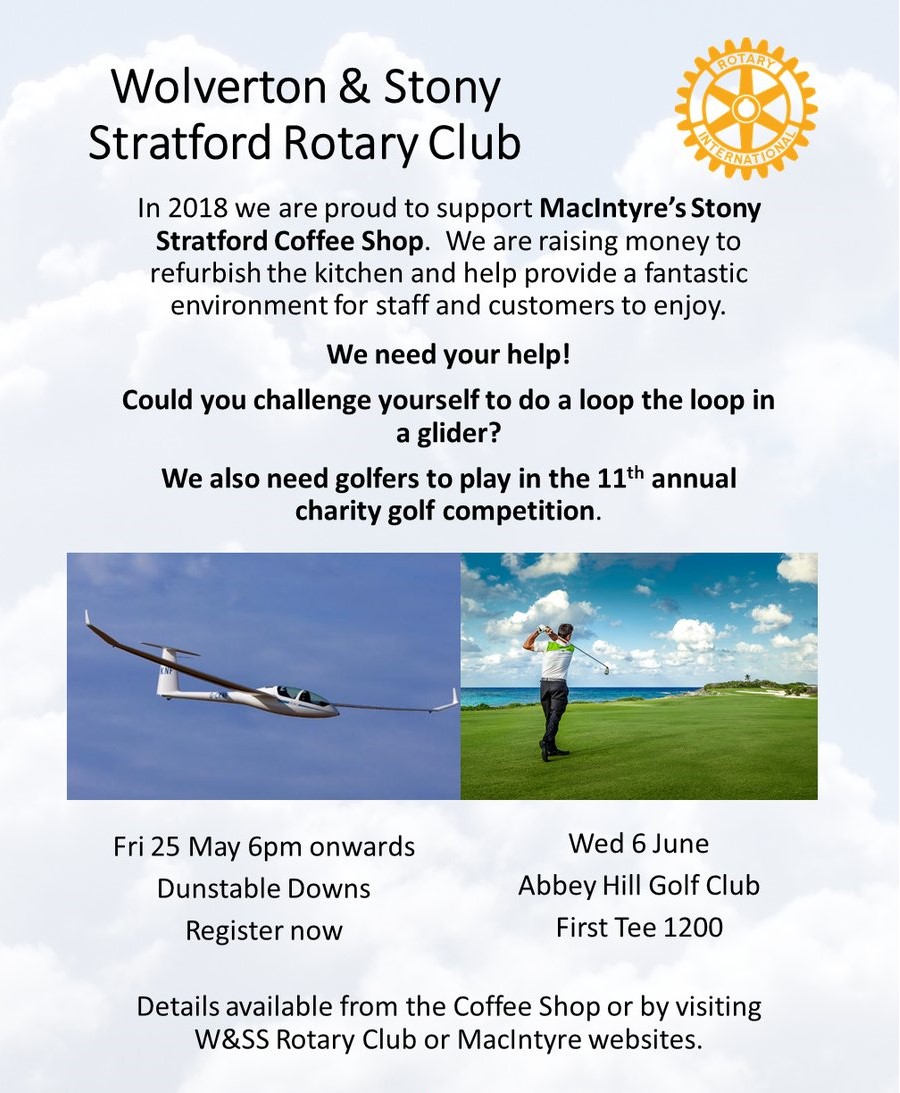 .
Kids Out Day, for disadvantaged youngsters, at Whipsnade Park
Wed. 13th June, details Chris Byard
.
Rotary District Conference at Hatfield
Sat./Sun. 16th-17th June, details John Waters
.
Club social week-end, Fri. 19th - Mon 22nd Oct.,
Alvaston Hall, Cheshire, details John Waters
.
Day Trip to Chatsworth House, Derbyshire
Wed. 28th Nov. details Ann Waters
See the Christmas Decorations & Markets, and tour the stately home. Cost £35.00pp for coach and admission to the house.
.
For our full list of club meetings/speaker events click on 'diary' tab above
.
Rotary Technology Tournament - 2018.
.
Teams from schools across Milton Keynes competed in the Rotary Technology Tournament on 14th March 2018. The annual event, organised by all the Rotary clubs within Milton Keynes, was held at Denbigh School.
.
Teams of four from 25 schools were challenged to design, construct and test a launcher capable of sending a capsule into space. Marks were awarded for teamwork, design, manufacture, documentation & task completion. An enjoyable experience watching the enthusiasm and ingenuity of all the students. Cash prizes and shields were awarded to the winners of the three class categories.
.
Foundation - Denbigh
Intermediate - St. Pauls
Advanced - Radcliffe
.
The prizes were presented by Peter Kara, High Sheriff of Buckinghamshire and Justin Pearce, General Sales Manager of Aston Martin. Congratulations to all contestants and the eventual winners. Thanks go to the event organising committee chaired by our own Alan Harradine, sponsors Aston Martin, Newport Pagnell, and local Rotary Clubs, participants, judges from the O.U., Network Rail & Rotary, and our hosts at Denbigh School.
.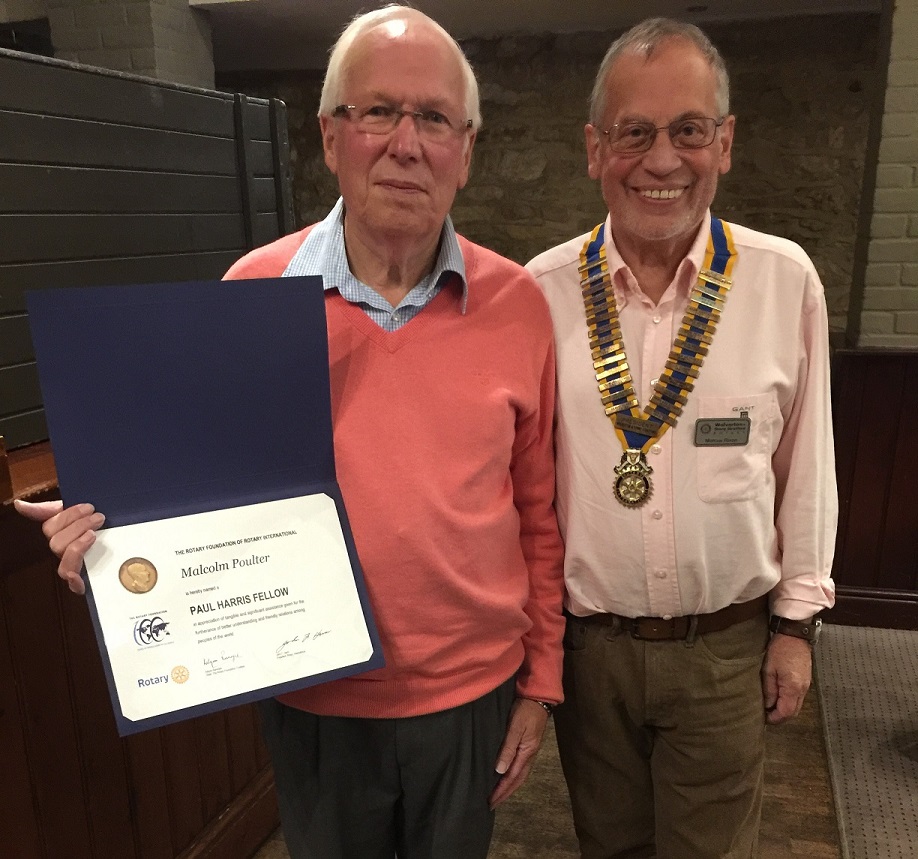 .
Malcolm Poulter
.
It was a year ago in March since Malcolm Poulter passed away and we all remember him with deep affection. Malcolm was a very likeable, caring, inspirational and hard working member of our club and is still greatly missed. A past Club President he will be particularly remembered for instigating and organising our annual golf days which have raised many thousands of pounds for good causes; this competition will reach its 11th anniversary this June. Pictured above is Malcolm receiving a Paul Harris Fellowship award in 2017 - an honour he so very much deserved.
.
Our thoughts are with Pam and her family upon this anniversary of his passing.
.
.
Our Rotary Christmas Quiz provided considerable entertainment for some, frustration for others, but at least something to while away any dull moments over the festive season. Several hundred copies were sold and 36 entries were returned of which 6 were 100% correct. With the answers there were some very imaginative, even strange, parts to some people's bodies!!
.
The winning entries were
221 - Helen B, 223 - Jim B, 266 - Jenni D
482 - Peter A, 216 - Kevin M, 260 - Marion C
.
Rather than divide the prizes (as stated in the rules) we will give £10 to each successful competitor. The competition raised £307 overall and with a 2 for 1 matched funding donation from the Bill Gates Foundation a whopping total of over £900 has been raised for good causes. Thank you all for your support.
.
For all the correct answers click the link below:
http://www.wolvertonandstonystratfordrotaryclub.co.uk/xmas-quiz.pdf
.
.
Car Boot Sales
.
What are you doing this week-end? If you are clearing out your loft or garage, and have items you no longer require and do not wish to sell, then please give Rotarian Chris a call. We can convert your pre-loved items into cash, via further car boot and internet sales, to go towards our youth service and children's charities.
.
Following the success of our car boot and internet sales of donated goods over the last two years (£600 raised in 2016 and £350 in 2017) we are again requesting donations for this year's round.
.

.
Whenever you buy something on line you could be raising a free donation for Wolverton & Stony Stratford Rotary Club.
.
There are over 3,300 retailers including Amazon, John Lewis, eBay, Booking.com and Sainsbury's, ready to give a free donation every time you shop. It's really simple, and doesn't cost you anything extra. All you have to do is:
1. Go to: http://www.easyfundraising.org.uk/causes/rcwss
2. Click Join Us and enter your details and click on Create My Account
3. Choose from over 3,300 retailers, do your shopping as normal and our Rotary Club will receive a free donation at no extra cost to you for every purchase you make
Thank you for your support, you'll be helping to make a real difference to Wolverton & Stony Stratford Rotary
.
Bekash Evening
.
A profit of over £1100 was raised at our fundraising event at the Bekash Restaurant in Stony Stratford on 31st October, in support of SERV the blood bikes charity and LEND with Care.Thank you to Indra Patel and his organising committee and also to restaurant owner Mr Murkit for his generous support.
.
.
Kids Out Day - 14th June 2017
.
Chris and Judith Byard accompanied over 110 children and 90 helpers from Walnuts School on their annual day out to Whipsnade Zoo. It was all part of Rotary Kids Out Day when children throughout Rotary District 1260 get the chance to have fun and exciting experiences in the safe environment of the Zoo. In brilliant sunshine the youngsters enjoyed the huge variety of animals on display (at a safe distance!) plus the exciting train ride and adventure playground. At the end of the day there were a lot of tired but happy youngsters!
.
Did You see? our sponsored young musician Sarah Ikumu, from last year's Rotary Young Musician competition, go all the way to the final of T.V.'s 'Britain's Got Talent' on Saturday 3rd June 2017. Sarah came seventh out of the 10 finalists and a professional singing career beckons.
.
Donation to St. George's Church, Wolverton: In the lead up to Christmas we made a donation of £500 to help with the church's work in supporting the homeless. Reverend Gill Barrow-Jones, Rector, commented "this is extremely kind of our local Rotary club and it will make a big difference to the way in which we can help individuals in need".