.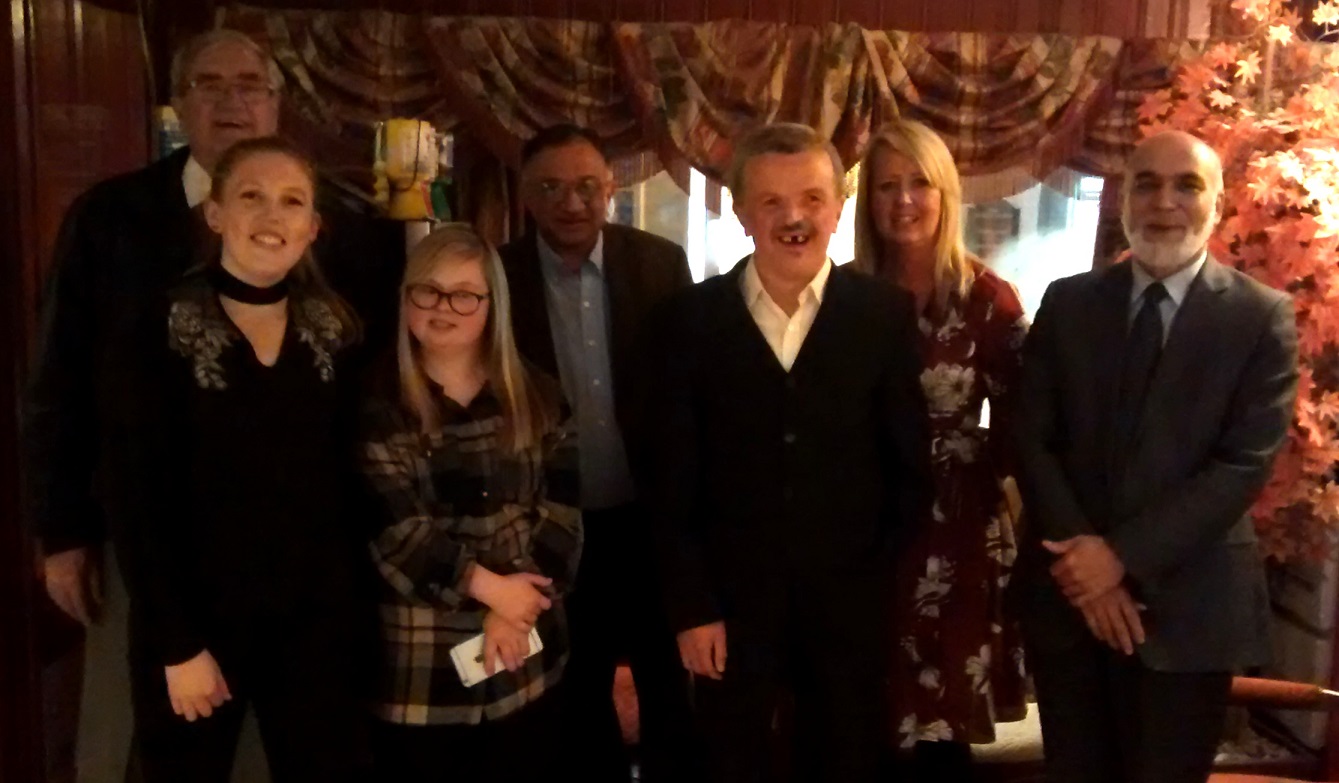 .
Bekash Fundraiser
.
A big thank you to all 60 people who attended our fundraising dinner in October, which raised a marvellous £780 to go towards the club's current project to refurbish the kitchen in MacIntyre's Coffee Shop. Thank you also to Mr Mukit, owner of the Bekash Restuarant in Stony Stratford which hosted the event, and to Rotarian Indra Patel for organising the event. Pictured above are club members and staff from MacIntyre Care with Mr Mukit.
.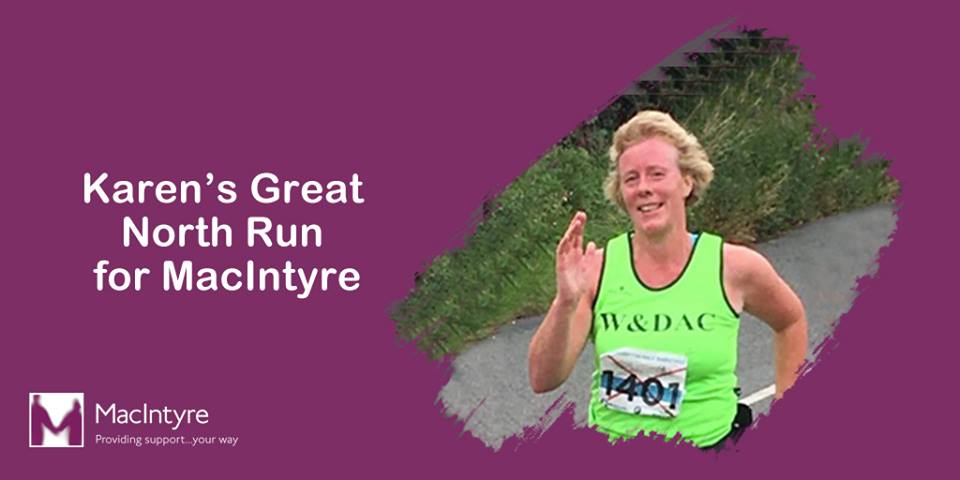 .
Congratulations Karen
.
Congratulations Karen Lower on completing the Great North Run on Sunday 9th September. Karen has now collected all her sponsorship money, to the tune of £420, which will go towards our MacIntyre Coffee Shop kitchen refurbishment project.
.
Crazy Whist Evening
.
A very enjoyable crazy whist evening on 28th September raised almost £360 for our MacIntyre Coffee Shop fund. A big thank you to Ann Waters, for organising the event, and Ken George for ensuring we all correctly followed the (crazy) rules of play.
.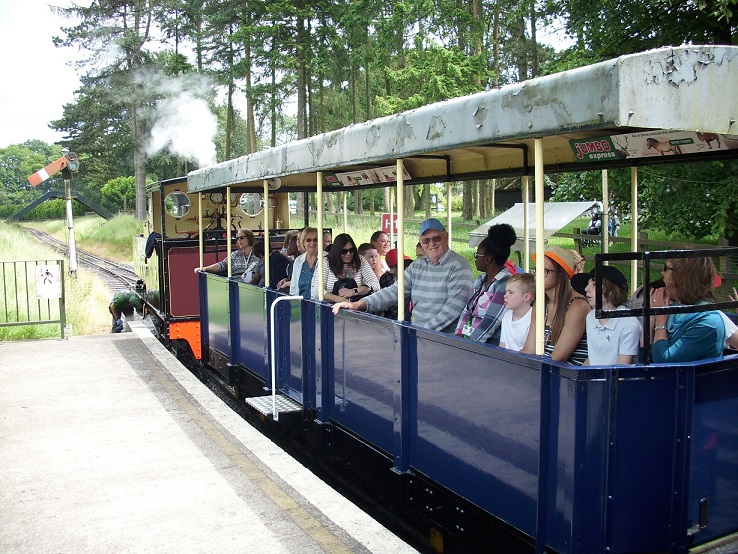 .
Kids Out Day 13th June 2018
.
Our group of 100 children from Walnuts School had a splendid time at Whipsnade Zoo; so too did President Tom & Jacky, Chris & Judith and almost 100 helpers from the school. The weather was perfect, warm and sunny. The huge range of animals and attractions never ceases to amaze, and we have been taking the children from 'Walnuts' to Whipsnade now for 20 years! Thank you to Alan Tarsey and his team from Dunstable Rotary Club for organising the whole event.
.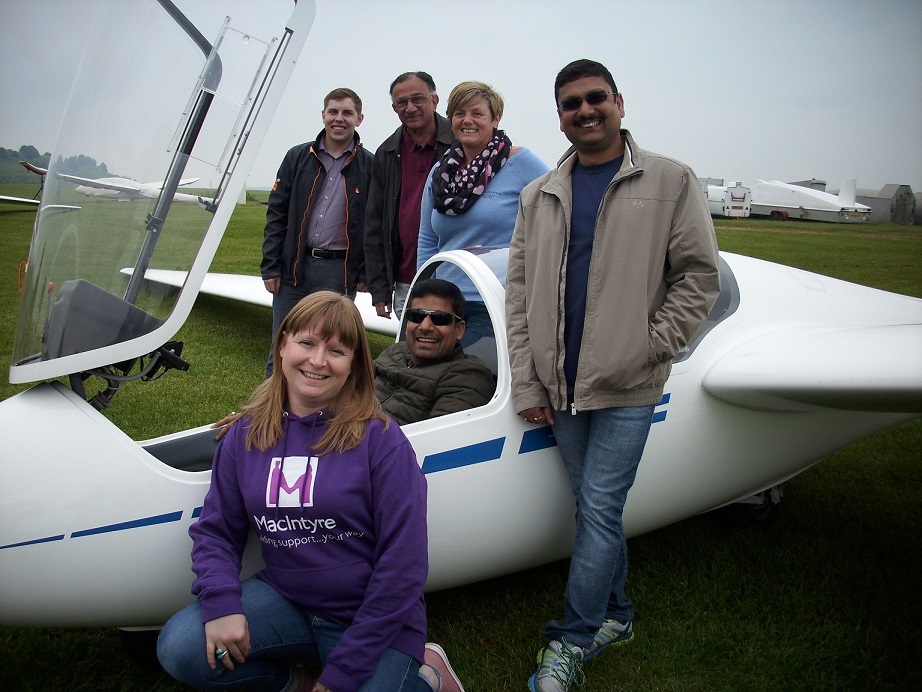 .
Loop-the-Loop Fundraising Challenge
.
Now in its sixth year, the sponsored 'loop-the-loop' in a glider event organised by Wolverton & Stony Stratford Rotary Club together with Milton Keynes Satellite RC attracted six willing volunteers, including our own Indra Patel. It was touch and go, however, whether the event last Friday evening (25th May) would go ahead due to low cloud cover. But then, after a seemingly very long wait, the clouds began to break up much to the relief of flyers and organisers alike. The flights took place courtesy of the London Gliding Club at Dunstable Downs with each participant experiencing at least two exhilarating full loops in the glider, but seasoned flyer Indra (well, he has done this challenge before in 2016) completed four!. Half of their sponsorship will be shared equally between our MacIntyre kitchen project and MK Satellite Rotary Club's Indian school venture and the other half of each individual flyer's total to a charity of their own choice. The event was rounded off with the traditional barbecue.
.
After the flights the organiser, Rotarian John Moss, thanked everyone who made the event possible, especially all the brave and enthusiastic 'loopers' and their sponsors, and the London Gliding Club and its pilots."
.
Pictured above left to right are the flyers, looking remarkably relaxed before their flights, Donna, Ross, Indra, Mukesh (seated), Sally and Vivek.
.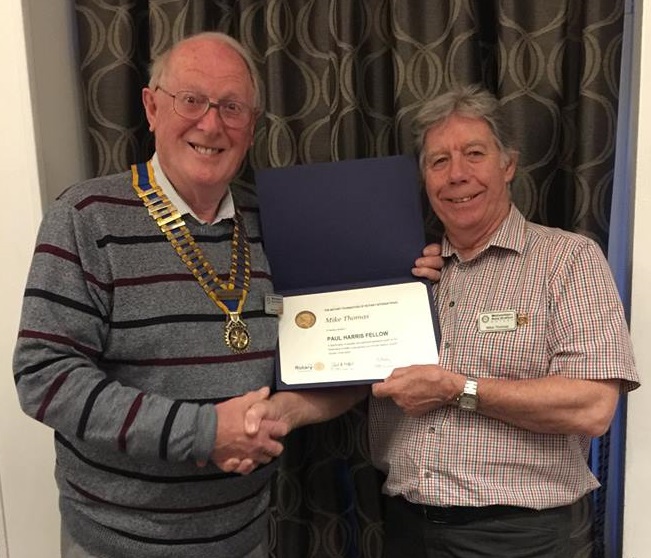 .
Congratulations to Mike Thomas upon receiving a well deserved Paul Harris Fellowship award, for his outstanding service to Rotary and other local charities over 25 years. Pictured is Mike with President Tom after the award ceremony.
.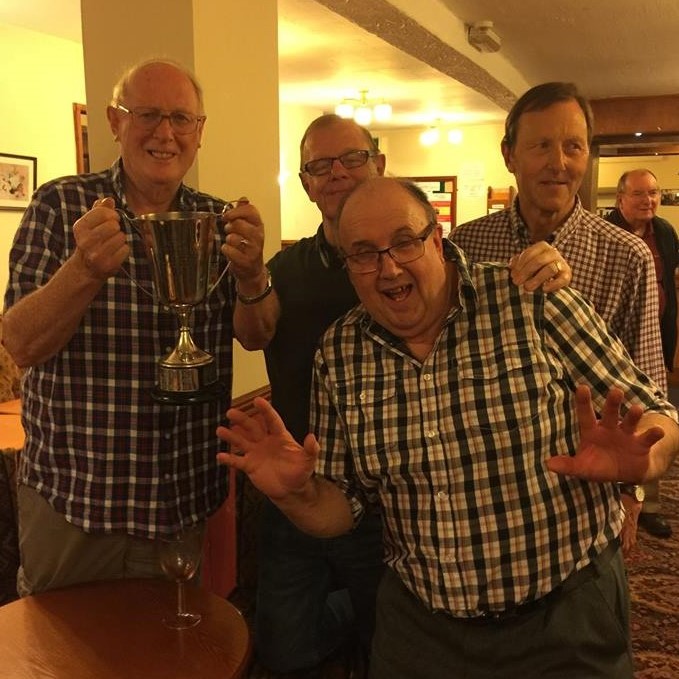 .
Games Night
.
We joined with the Rotary Clubs of Newport Pagnell, Woburn Sands Satellite and MK Grand Union for a fun games evening in Hanslope last week (10th May). The winner's cup came back home to our club, and with it the responsibility for organising next year's competition! The winning team (club team 2) comprised Tom, Eric, Dave, Chris & John W. Thank you to Newport Pagnell RC for organising the event.
.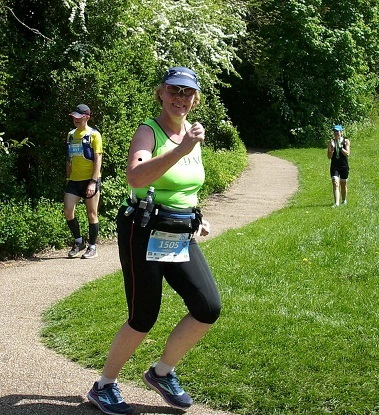 .
Marathon Lady
.
Well done Karen Lower on completing the MK Marathon on Monday 7th May, in sweltering conditions. Pictured above is Karen, at the 19 mile mark in Bancroft Park, managing a smile for her supporters' club! (Mike, Pat, Chris & Judith).
.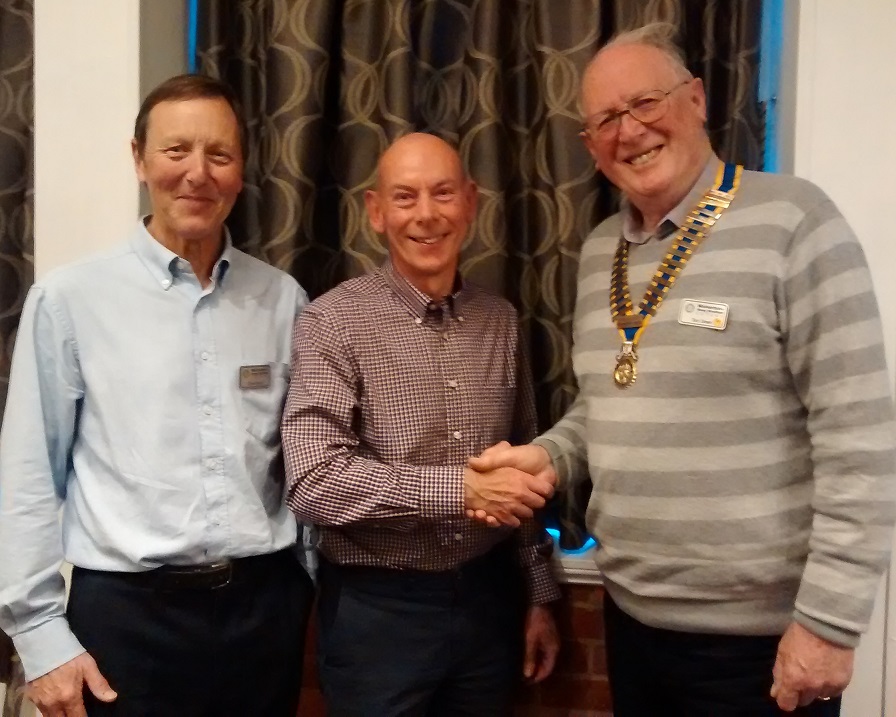 .
A warm welcome to Bernard Garvey, who was inducted by President Tom on 2nd May.
.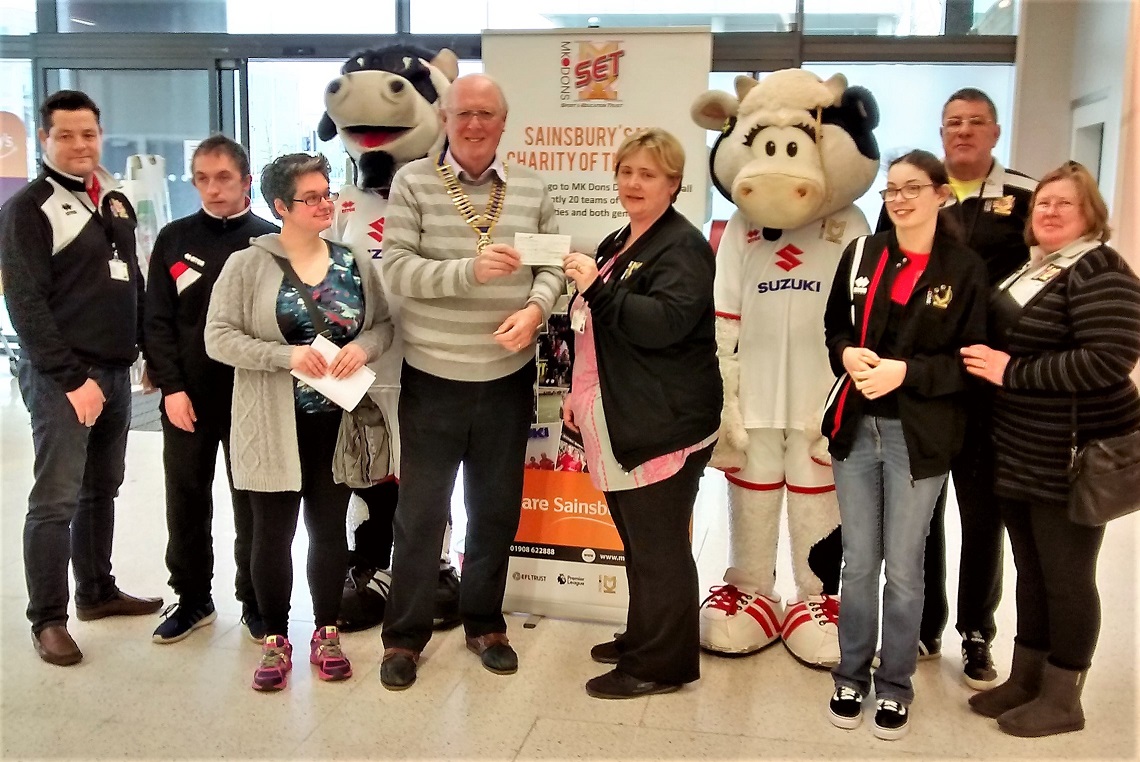 .
MK Dons Sports Education Trust
.
Pictured above is President Tom presenting a cheque for £700 to Kelly Day, Volunteer Fundraiser for MK Dons SET, with Shelley Day, Sainsbury's PR Ambassador, together with SET volunteers and players. Keeping a close eye on proceedings are MK Dons mascots Mooie and Donny.
.
The money was raised on one of our five collection days with Santa at Sainsbury's, in the run up to Christmas, and was gifted to MK Dons Sports Education Trust, Sainsbury's charity of the year.
.
We are grateful to customers at the store who gave so generously to our Christmas collection, with proceeds from the other four collection days going to our charity project of the year, 'Blood Bikes - SERV', and other local charities including Willen Hospice.
.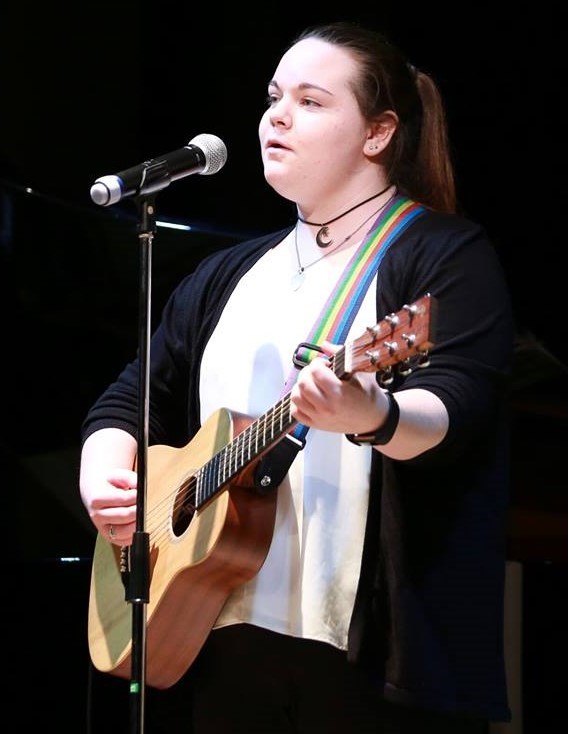 .
MK Schools' Young Musician Competition
.
The Milton Keynes Secondary Schools' Young Musician of the Year competition took place on 7th February 2018 at Ousedale School. The event, supported by local Rotary clubs, attracted very gifted vocalists and instrumentalists from schools across Milton Keynes.
.
The eventual winner was pianist Anais Stanners, from Oakgrove School, and the runner-up (winning vocalist) was Kiera Baird, from St. Paul's School. Both went forward to compete in the Rotary District 1260 Young Musician competition, held on 25th March. Well done Kiera and Anais on your success.
Pictured above is Kiera (sponsored by our Club) performing at the District competition on 25th March. Whilst she raised praise from the judges for her performance she did not make it through to the next stage. However, District Governor Elect Derek Ford has asked her to perform at one of his district conference event next year!
.
.
.
Santa is getting ready to tour MK
.
We know what you are thinking, preparations for Christmas seem to start earlier each year that passes. Well, Santa is starting to get ready nice and early this year for his tours around Wolverton, Stony Stratford, Old Stratford and New Bradwell during December. Santa will be ably helped by his elves & members and friends of Wolverton & Stony Stratford Rotary Club. Here is a sneak preview of his itinerary for the above areas:
.
Evening tour times: 6.00 until 8.00pm
Wolverton tours 1 & 2: Wed. 5th/Thurs 6th December
New Bradwell: Fri. 7th December
Stony Stratford tours 1 & 2: Mon.10th/Thurs 13th Dec.
Old Stratford: Wed. 12th December
.
Evening tours co-ordinator Rotarian Stuart Clarke
.
Santa will also be present in the following shopping areas:
Stony Stratford, Cofferidge Close, Saturday 8th & Saturday 15th December, 10.00am to 3.00pm
.
Cofferidge Cose collections co-ordinator Rotarian Bernard Garvey
.
Sainsbury's CMK
Wed. 19th Dec., 10.00am to 7.00pm
Thurs. 20th Dec., 10.00am to 7.00pm
Fri. 21st Dec., 10.00am to 7.00pm
Sat. 22nd Dec., 10.00am to 7.00pm
Sun. 23rd Dec., 10.00am to 5.00pm
.
Sainsbury's collections co-ordinator Rotarian Marcus Rixon
.
On-line Christmas Shopping?
.
Only a few weeks to go until Christmas! Thank you to our amazing supporters for helping us to raise £179.15 via 'easyfundraising'. Please remember to use 'easyfundraising when you are buying your Christmas presents online. We want to raise even more this year and it couldn't be easier through 'easyfundraising!https://www.easyfundraising.org.uk/
.
.
Indonesia Quake/Tsunami
.
We were all shocked to see the scenes of utter devastation following the recent tsunami in Indonesia. We have now donated funds to two of the immediate response charities, AquaBox and ShelterBox, to purchase life saving water and shelter kits to the value of £1,000.
.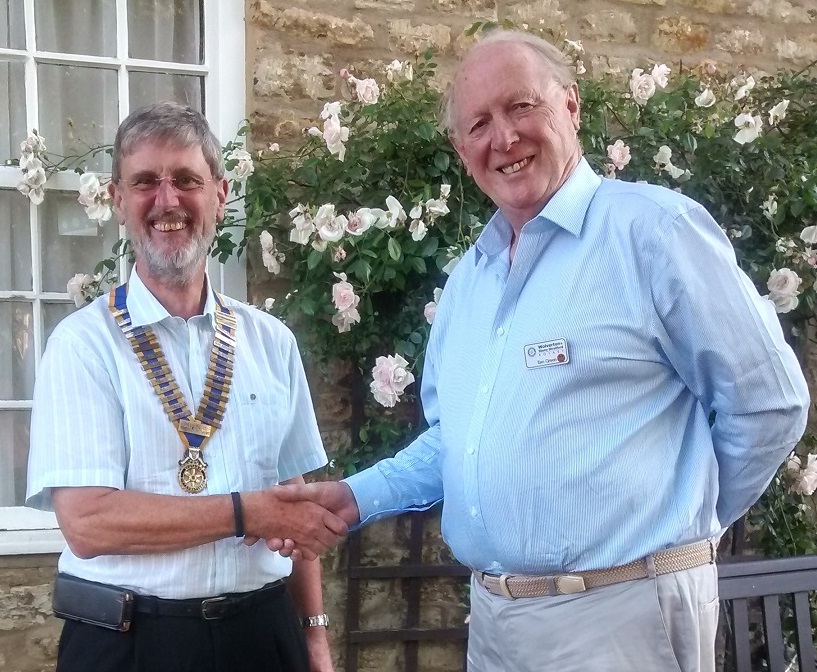 .
New Club President
.
Alan Swann has been elected as the new President of Wolverton & Stony Stratford Rotary Club, for the year commencing 1st July 2018, having taken over the role from Tom Green.
.
In thanking Tom for his leadership over the past year, Alan said how much he was looking forward to his year as President. "We are already working on several new projects to support our local community, most notably to raise £14,000 to fund a new kitchen for the MacIntyre Care coffee shop in Stony Stratford, and a number of international humanitarian good causes". President Alan's two main aims for his year are to grow the membership of the Club and increase our presence in the community.
.
A warm welcome to our newest members Stuart Clarke, who joined us on 26th June, and John Shambrook, who joined on 14th August.
.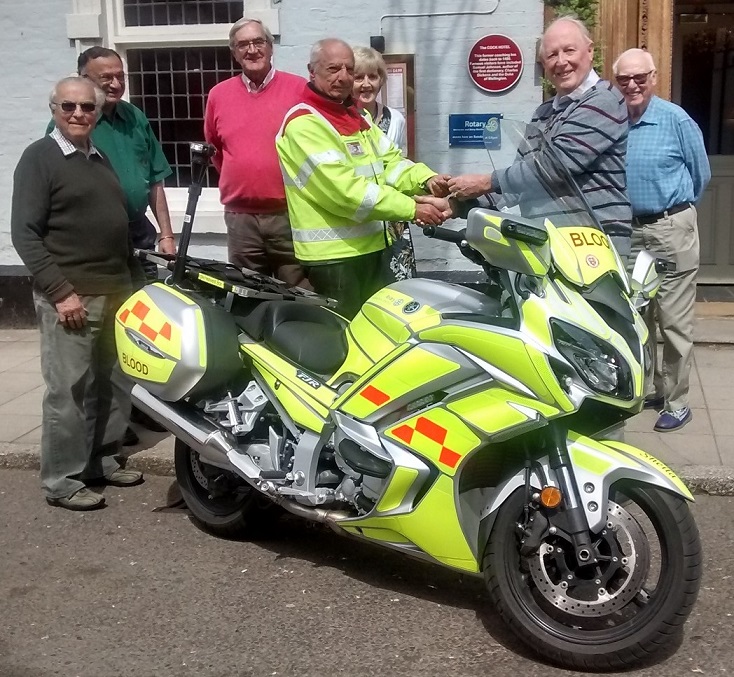 .
Rotary presents new Blood Bike 'Sheila'
.
Wolverton & Stony Stratford Rotary Club has just proudly presented (18th May) a brand new specially equipped Yamaha 'Blood Bike' to SERV OBN, the local branch of the national charity Service by Emergency Rider Volunteers, which covers Oxon, Bucks, Berks and Northants. In line with the SERV tradition of naming their bikes after distinguished women in the field of medicine, the Rotary bike bears the name 'Sheila', after Sheila Kitzinger MBE, a highly respected authority on natural childbirth.
SERV volunteers are fully qualified and experienced motor cyclists who are available on a standby rota basis to provide a rapid response transport service to collect and deliver urgent supplies of blood, platelets, baby milk and other important medical items between hospitals and health premises anywhere in the country out of normal hours, often during the night, and totally free of charge to the NHS.
At the handover, Rotary Club President Tom Green commented "This Blood Bike represents the culmination of 15 months of fundraising and we are so grateful for all the public support in helping us achieve our £14,000 target."
In response, Kamran Irani, the Chairman of SERV OBN said "This bike will be a most valuable addition to our fleet and enable us to continue helping to meet the needs of patients and medical staff requiring urgent supplies. Our sincere thanks go to Rotary for their tremendous efforts in making this possible."
.
Pictured above is Rotary President Tom Green, together with club members, handing over Sheila's keys to SERV OBN Chairman Kamran Irani, outside the Cock Hotel, Stony Stratford.
Mike Thomas, PR & Communications Officer
.
President Tom could not resist having a go on the new bike; "now, can I borrow somebody's crash helmet and I'll take it for a quick spin?"
.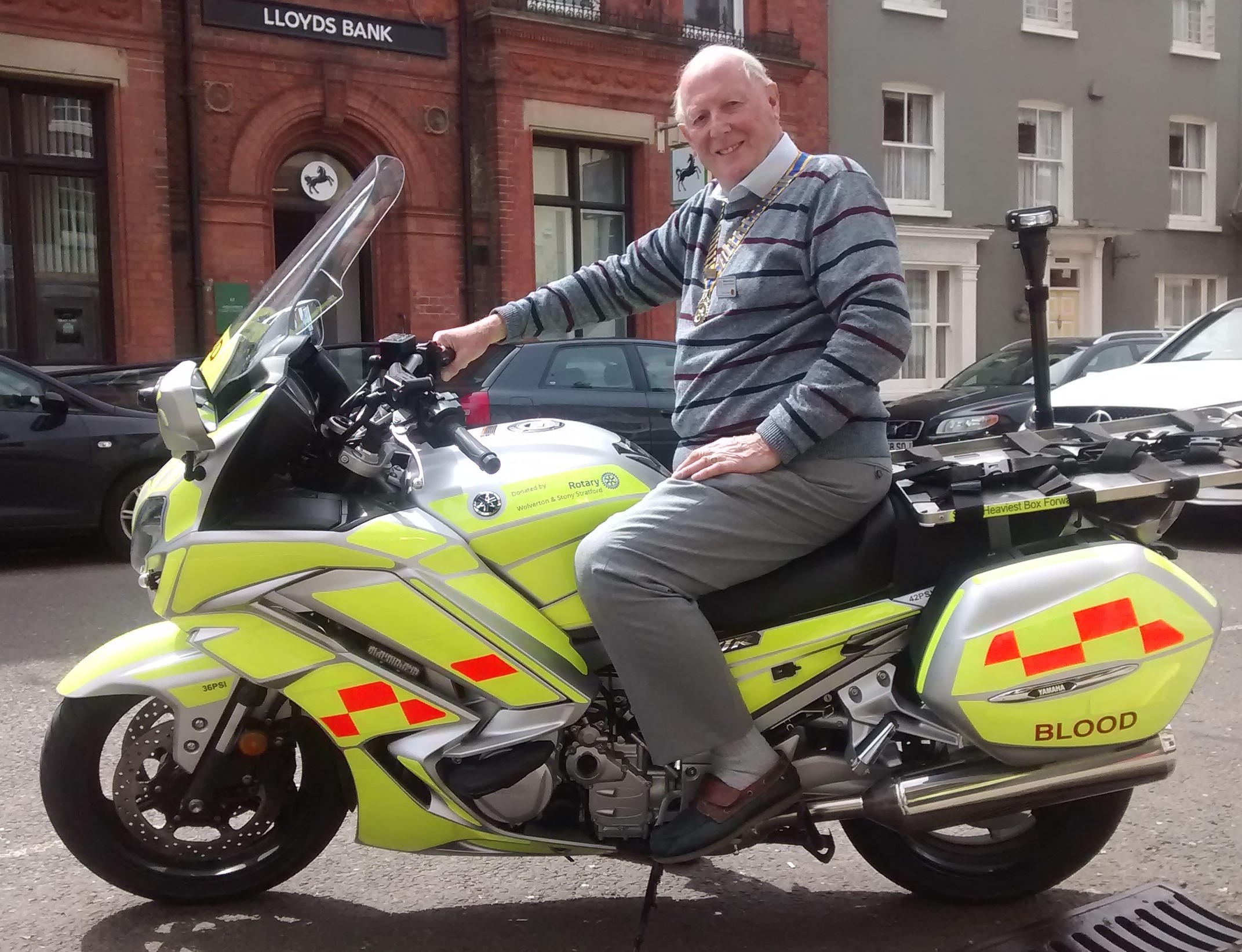 .
Super Sausage Café collection for SERV
.
.
Pictured above are President Tom, Nick Drury and Simon Webb, together with members of the blood bikes charity, SERV, taking a well earned break from their collection duties on 1st October. Thanks to the generosity of bikers and other visitors to the Super Sausage Café in Potterspury over £300 was collected over the weekend which will go towards our project to buy a brand new bike for SERV.
.
Further funds were raised a few weeks later when we collected from bikers at Jack's Hill Café, near Towcester. Thank you to the bikers, and to Nick Drury who organised the collection.
.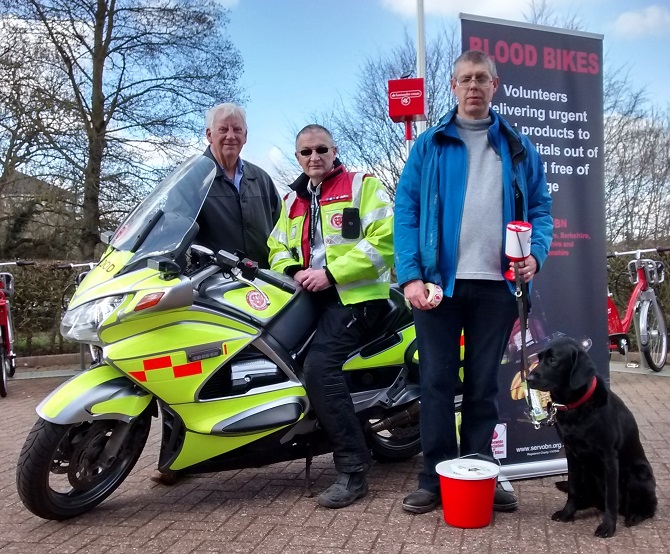 .
Santander Collection for SERV
.
Pictured above are Kevin with guide dog Ellie and Rotarian Barry Love together with Alistair from the blood bikes charity SERV (Service by Emergency Rider Volunteers). Thanks to the generosity of staff from Santander, where Kevin works, the fantastic sum of £1139 was collected on a 'dress-down' day on 24th February 2017. This sum will very nicely kick-start our next big club project, which is to buy a new motorcycle for SERV.
.
Cowper Museum
.
Members, friends and relatives were treated to a very interesting conducted tour of the Cowper Museum in Olney on 26th September 2017. Then it was a short walk across the High Street for a delicious evening meal at the Donzella Italian restaurant. Thank you to Ann Waters for organising the visit and meal.
.
Going on Holiday?
.
If you are a member of Rotary you can earn 10% commission for charity every time you book with Riviera Travel. Whether you travel as a group, a family or on your own every holiday can earn funds for your club. Request a free brochure from Riviera Travel at: http://www.rtyriviera.co.uk
Please mention our Rotary Club when you book.
.
Googling? Try the search engine 'easysearch' instead and raise money for Wolverton & Stony Stratford Rotary
Visit http://www.easysearch.org.uk
.
Tools for Self Reliance
.
Club members regularly spend an enjoyable evening at the MK workshop of 'Tools for Self Reliance' refurbishing donated old tools for Africa and learning new skills! Our last visit was on 8th March 2017 when we also handed over a donation of £150. Each visit is invariably rounded off with some well earned fish and chips!
.
.