.
.
.

.
Rotary Technology Tournament, Wed. 14th March, Denbigh School. Details from Alan Harradine
.
Rotary Young Musician of the Year (district final)
Sun. 25th March at Dr Challoner's High School, Little Chalfont, details Chris Byard. Our club will be sponsoring an entry from Kiera Baird, who won the runners-up prize in the MK Secondary Schools' musician competition (local heat)
.
RIBI Conference, Torquay, Fri./Sun. 6th-8th April
Details John Waters
.
Chinese Evening, Tues. 10th April, Kam Tong Restaurant
Tickets £18.50 from Chris Byard
.
Sun. 29th April, Rotary Young Musician of the Year (regional final)
Dr Challoner's High School, Little Chalfont
.
Annual Charity Golf Day at Abbey Hill, MK
Wed. 6th June, details Jim Barnes
.
Kids Out Day, for disadvantaged youngsters, at Whipsnade Park
Wed. 13th June, details Chris Byard
.
Rotary District Conference at Hatfield
Sat./Sun. 16th-17th June, details John Waters
.
Club social week-end, Fri. 19th - Mon 22nd Oct.,
Alvaston Hall, Cheshire, details John Waters
.
.
Bekash Evening
.
A profit of over £1100 was raised at our fundraising event at the Bekash Restaurant in Stony Stratford, in support of SERV the blood bikes charity and LEND with Care.Thank you to Indra Patel and his organising committee and also to restaurant owner Mr Murkit for his generous support.
.

.
Whenever you buy something on line you could be raising a free donation for Wolverton & Stony Stratford Rotary Club.
.
There are over 3,300 retailers including Amazon, John Lewis, eBay, Booking.com and Sainsbury's, ready to give a free donation every time you shop. It's really simple, and doesn't cost you anything extra. All you have to do is:
1. Go to: http://www.easyfundraising.org.uk/causes/rcwss
2. Click Join Us and enter your details and click on Create My Account
3. Choose from over 3,300 retailers, do your shopping as normal and our Rotary Club will receive a free donation at no extra cost to you for every purchase you make
Thank you for your support, you'll be helping to make a real difference to Wolverton & Stony Stratford Rotary
.
.
Cowper Museum
.
Members, friends and relatives were treated to a very interesting conducted tour of the Cowper Museum in Olney on 26th Sept. Then it was a short walk across the High Street for a delicious evening meal at the Donzella Italian restaurant. Thank you to Ann Waters for organising the visit and meal.
.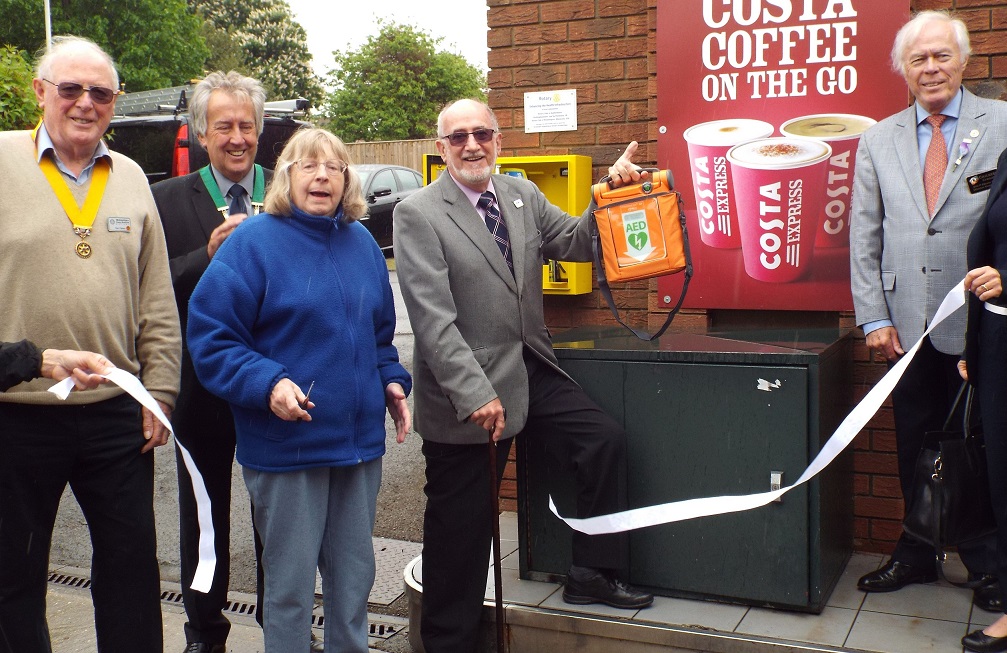 .
New Defibrillator in Stony Stratford
Sixteen representatives from Rotary, Stony Stratford Town Council, Milton Keynes Council and BP assembled at the BP Filling Station in London Road, Stony Stratford in May for the official presentation of a new defibrillator.
Arranged by our Rotary Club in conjunction with the Town Council and the Community Heartbeat Trust charity, and funded by a grant from the Rotary International Foundation, the defibrillator is prominently located on the garage forecourt and will be available 24/7 for use by the public to treat anyone who is in cardiac arrest by giving a high-energy electric shock.
John Moss, the club's Foundation Chairman said "We are really pleased to have been involved with this project and are most grateful to BP for agreeing to have this important life-saving equipment on their premises".
In order to provide awareness and training so that people have confidence to use defibrillators, and have more people in the community able to offer CPR (Cardio Pulmonary Resuscitation), the public were invited to a CPR information meeting run by the Community Heartbeat Trust at Stony Stratford Library in June.
Pictured above is Cllr Joan Walker MBE, Chair of Stony Stratford Town Council cutting the ribbon to officially launch the new defibrillator, accompanied (L to R) by Rotary Club Vice President, Tom Green; Milton Keynes Deputy Mayor, Cllr David Hopkins; Rotarian John Moss and Rotary District Governor, Chalmers Cursley.
Mike Thomas, PR & Communications Officer
.
.
Car Boot Sales
.
Following the success of our car boot and internet sales of donated goods last year (over £600 raised) we are again requesting donations for this year's round. If you are clearing out your loft or garage this weekend, and have items you no longer require and do not wish to sell, then please give Rotarian Chris a call.
Update, October 2017 - nearly £300 has been raised so far this year from further car boot & internet sales.
.
Kids Out Day - 14th June 2017
Chris and Judith Byard accompanied over 110 children and 90 helpers from Walnuts School on their annual day out to Whipsnade Zoo. It was all part of Rotary Kids Out Day when children throughout Rotary District 1260 get the chance to have fun and exciting experiences in the safe environment of the Zoo. In brilliant sunshine the youngsters enjoyed the huge variety of animals on display (at a safe distance!) plus the exciting train ride and adventure playground. At the end of the day there were a lot of tired but happy youngsters!
.
Annual Golf Day - Wed. 7th June 2017
Our 10th Annual Golf Day was held once again at Abbey Hill Golf Club. On this special occasion we celebrated the life of Malcolm Poulter; he must have been looking down on us favourably as the weather was glorious and everyone had a very enjoyable day. By his family's request the major portion of the proceeds will go towards the purchase of a new motorcycle for SERV (Service by Emergency Rider Volunteers).
After the day's exploits on the course were over we sat down for a delicious two-course dinner after which several individual and team prizes were announced. The 'Normans' scooped the top team prize and carried off the Roger Borley Cup. Our club, as represented by the 'Swanning Around Team', won the Malcolm Poulter Memorial Cup. The evening concluded with a charity raffle and auction and expressions of thanks to all players, event sponsors, helpers on the day, the golf club and last, but not least, event organiser Jim Barnes.
.
Kam Tong Garden Evening - 28th March
Thank you to everyone who supported our Chinese Meal evening. A profit of just over £540 was raised in aid of children's charities. Thank you also to the Kam Tong Garden restaurant for putting on a splendid meal and to our generous sponsors and raffle prize donors.
.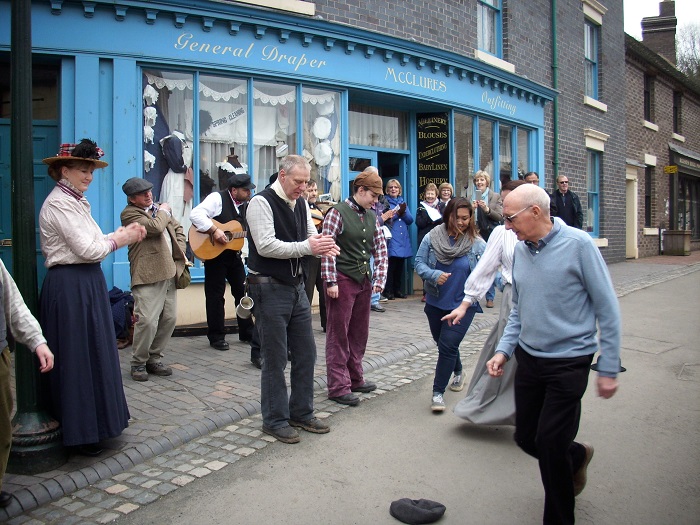 .
Trip to Ironbridge
.
Thank you to John Waters for organising a very enjoyable weekend break to Ironbridge in March. Highlights included visits to the Victorian village at Blist Hill, the Coalport China Museum and the Gorge Museum, plus of course the very comfortable hotel and convivial company. Thank you also for the excellent care extended to us throughout the weekend by Jewels Tours.
.
Grand Autumn Draw
.
Thank you to everybody who bought raffle tickets in our Grand Autumn Draw. The draw generated a profit of over £800 which will go towards the purchase of equipment for a new sensory room, for autistic youngsters, based at Walnuts Care in Galley Hill, Milton Keynes.
.
Social Evening
.
It was best foot forward on our recent walk along the canal at Cosgrove followed by a delicious meal at the Barley Mow. Thank you to Ann for organising a splendid evening.
.
Clay Shoot Competition - 23rd October
.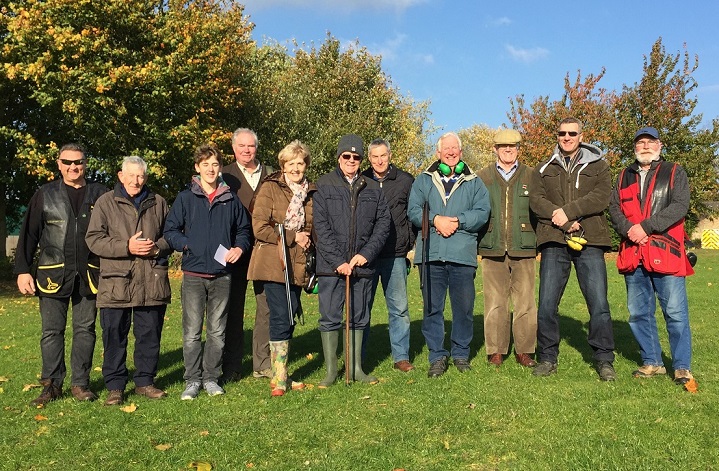 .
Captain Bob Russell carried off the spoils at our recent clay shoot competition, with an impressive 10 out of 10 score. No doubt his previous army service had a lot to do with this success. A very enjoyable morning's shooting, with thanks to Barry Love for organising the event.
.
http://www.facebook.com/people/Wolverton-Rotary/100008813208942
.
Rotary Technology Tournament.
Teams from schools across Milton Keynes competed in the Rotary Technology Tournament on 15th March 2017. The annual event, organised by all the Rotary clubs within Milton Keynes, was held at Denbigh School.
.
Teams of four were challenged to design, construct and test a vehicle to travel along a pipeline and move debris. Marks were awarded for teamwork, design, manufacture, documentation & task completion. An enjoyable experience watching the enthusiasm and ingenuity of all the students. Cash prizes and shields were awarded to the winners of the three class categories.
.
Foundation - Ousedale
Intermediate - Ousedale
Advanced - Radcliffe
.
Congratulations to all contestants and the eventual winners. Thanks go to the event organisers, sponsors, participants, judges, and our hosts at Denbigh School.