.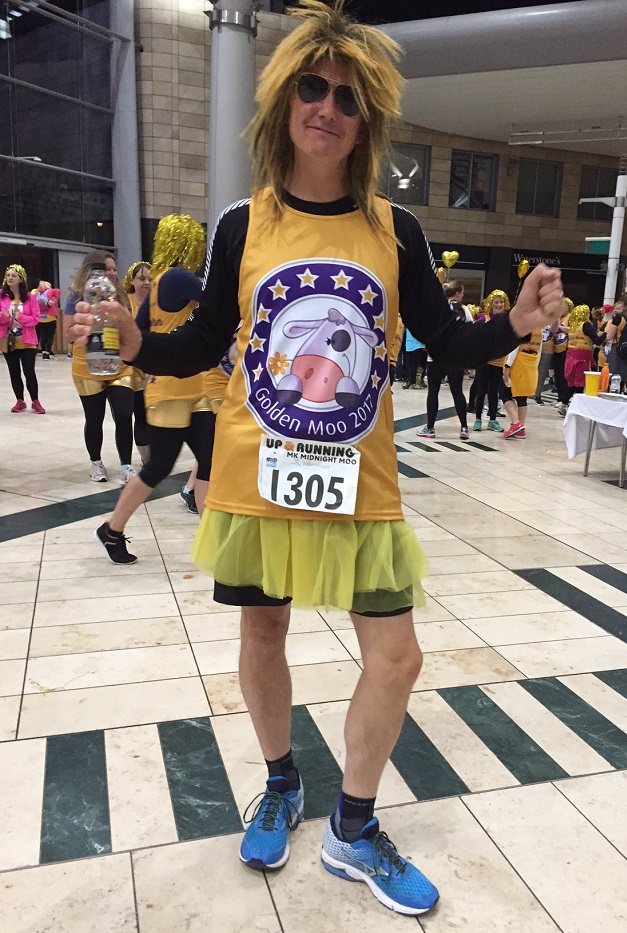 .
Rotarian Simon's Golden Mooment
.
With sponsorship from the Rotary Club of Wolverton & Stony Stratford, Simon Webb had no hesitation in donning his gold wig and frilly tutu to join over 1,000 others for this year's Willen Hospice Golden Midnight Moo on 15th July. Traditionally a walk exclusively for women, Simon was one of a maximum of only 50 men allocated a Gold Band to participate in the walk this year to mark MK's 50th anniversary.
.
After the walk, Simon said "I always like to keep fit and this seemed a great way of combining that and my club's ongoing support for Willen. I thoroughly enjoyed the walk, the night was so well organised and, of course, I am most grateful to my fellow Rotarians for agreeing to support me in this way."
.
Pictured above is Simon getting in the moo'd before the walk.
.
Mike Thomas, PR & Communications Officer
.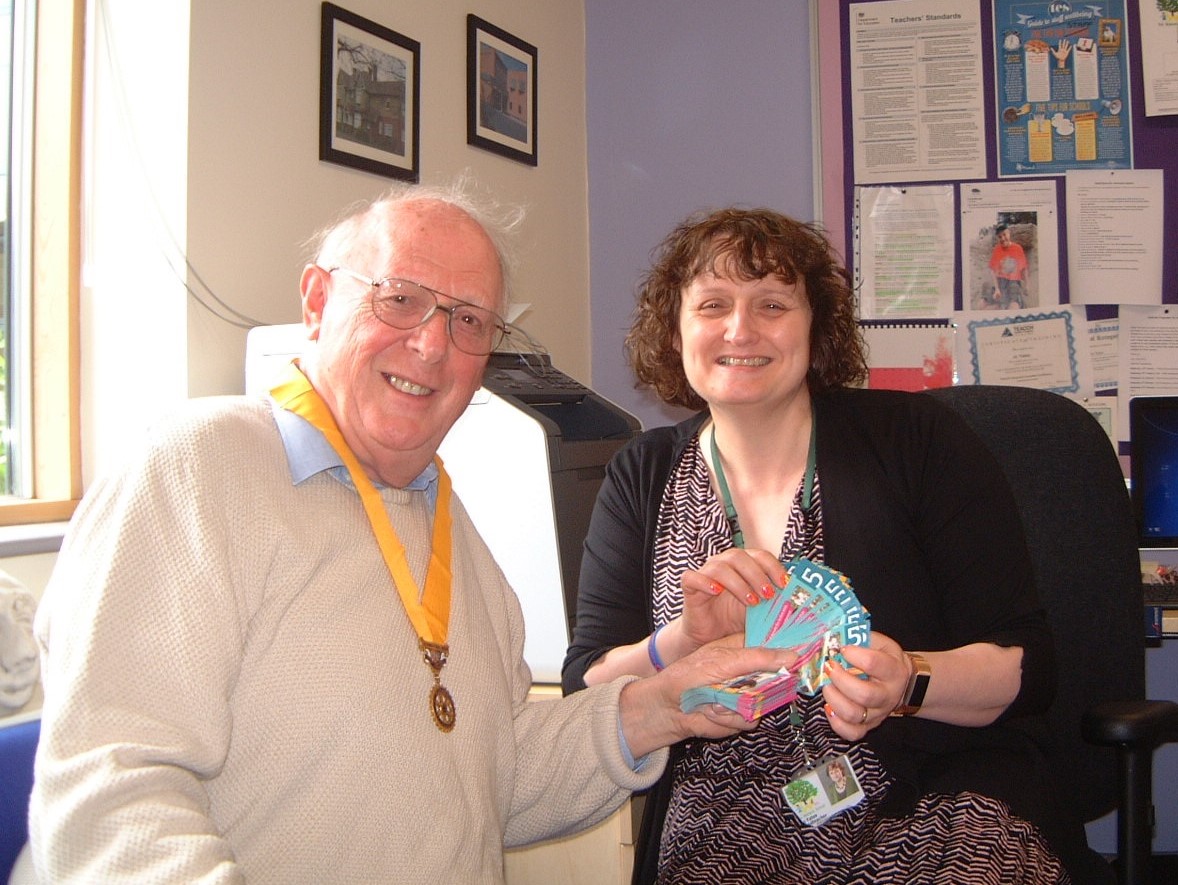 .
Sainsbury's Vouchers
.
Vice President Tom Green's collection of 371 Sainsbury's 'Active Kids' vouchers will soon be put to very good use in purchasing games equipment for Walnuts School. Pictured above is Tom handing over the vouchers to Jo Wates, Head Teacher, to add to the school's own collection. For details of the Active Kids programme visit: http://activekids.sainsburys.co.uk/
.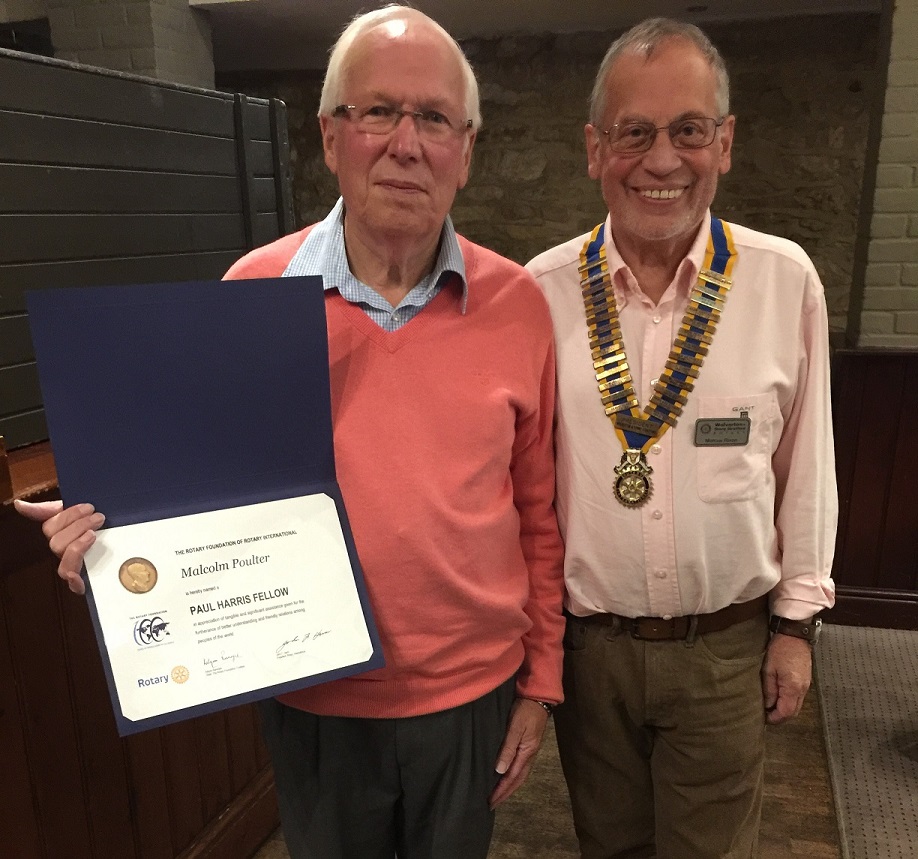 .
Malcolm Poulter
.
It is with much sadness that we report that Malcolm Poulter passed away on 6th March. Malcolm was a very likeable, caring, inspirational and hard working member of our club and will be greatly missed by us all. A past Club President he will be particularly remembered for instigating and organising our annual golf days which have raised many thousands of pounds for good causes; this competition will reach its 10th anniversary this June. Pictured above is Malcolm receiving a Paul Harris Fellowship award last year - an honour he so very much deserved.
.
Our thoughts are with Pam and her family at this very sad time.
.
Annual Golf Day - Wed. 7th June 2017
Our 10th Annual Golf Day was held once again at Abbey Hill Golf Club. On this special occasion we celebrated the life of Malcolm Poulter; he must have been looking down on us favourably as the weather was glorious and everyone had a very enjoyable day. By his family's request the major portion of the proceeds will go towards the purchase of a new motorcycle for SERV (Service by Emergency Rider Volunteers).
After the day's exploits on the course were over we sat down for a delicious two-course dinner after which several individual and team prizes were announced. The 'Normans' scooped the top team prize and carried off the Roger Borley Cup. Our club, as represented by the 'Swanning Around Team', won the Malcolm Poulter Memorial Cup. The evening concluded with a charity raffle and auction and expressions of thanks to all players, event sponsors, helpers on the day, the golf club and last, but not least, event organiser Jim Barnes.
.
Kam Tong Garden Evening - 28th March
Thank you to everyone who supported our Chinese Meal evening. A profit of just over £540 was raised in aid of children's charities. Thank you also to the Kam Tong Garden restaurant for putting on a splendid meal and to our generous sponsors and raffle prize donors.
.
News in Brief
.
Hurricane Disaster Relief: Following the recent devastation caused by hurricanes in the Caribbean we have forwarded a donation of £1,000 to the disaster relief charity, Shelter Box.
.
Tour of Printers: Thirty-one members, friends and relatives were treated to a most interesting conducted tour of Buckingham Colour Quest printers recently, followed by a very sociable evening meal at Pregos Italian restaurant. Many thanks to Baz for organising the visit and meal.
.
Waitrose Donation: Thank you to Waitrose, Oakgrove Store, for the very kind donation of £174.00 towards our kids out day at Whipsnade Zoo for disadvantaged youngsters. This was the amount raised for our charity from the store's 'community matters' green token scheme, which asked shoppers to vote for one of three featured good causes during the month of May.
.
Congratulations to John Moss on receiving the Rotary District 1260 Foundation Cup at the recent district induction dinner. John has worked tirelessly on Rotary Foundation duties throughout the year and most recently secured the provision of defibrillators at key locations throughout the district.
.
Marathon Lady: Congratulations to Karen Lower on completing her first London Marathon last Sunday (23rd April). Karen, a keen runner and past competitor in the MK Marathon, achieved a time of 5hrs, 4 minutes. Karen is now collecting her sponsorship money in support of Headway, the brain injury charity.
.
Did You see? our sponsored young musician Sarah Ikumu, from last year's Rotary Young Musician competition, go all the way to the final of T.V.'s 'Britain's Got Talent' on Saturday 3rd June? Sarah came seventh out of the 10 finalists and a professional singing career beckons.
.
Donations were recently made to several local charities, from the proceeds of our Christmas Float collections, most notably Willen Hospice (£1,000), Tools-for-Self Reliance, Wolverton Scouts, Wolverton Moles, Wolverton Inner Wheel, Wolverton-in-Bloom, Stony-in-Bloom and Super-shoes, plus a grant of £500 to the club's sensory room project.
.
Donation to St. George's Church, Wolverton: In the lead up to Christmas we made a donation of £500 to help with the church's work in supporting the homeless. Reverend Gill Barrow-Jones, Rector, commented "this is extremely kind of our local Rotary club and it will make a big difference to the way in which we can help individuals in need".
.
Welcome to our two newest club members, Baz Curryer and Nick Drury, who joined us in March.
.
Congratulations to Chris Byard upon receiving a Paul Harris Fellowship award in recognition of all his work for the club over the past 20 years, most recently steering the sensory room project for Walnuts Care.
.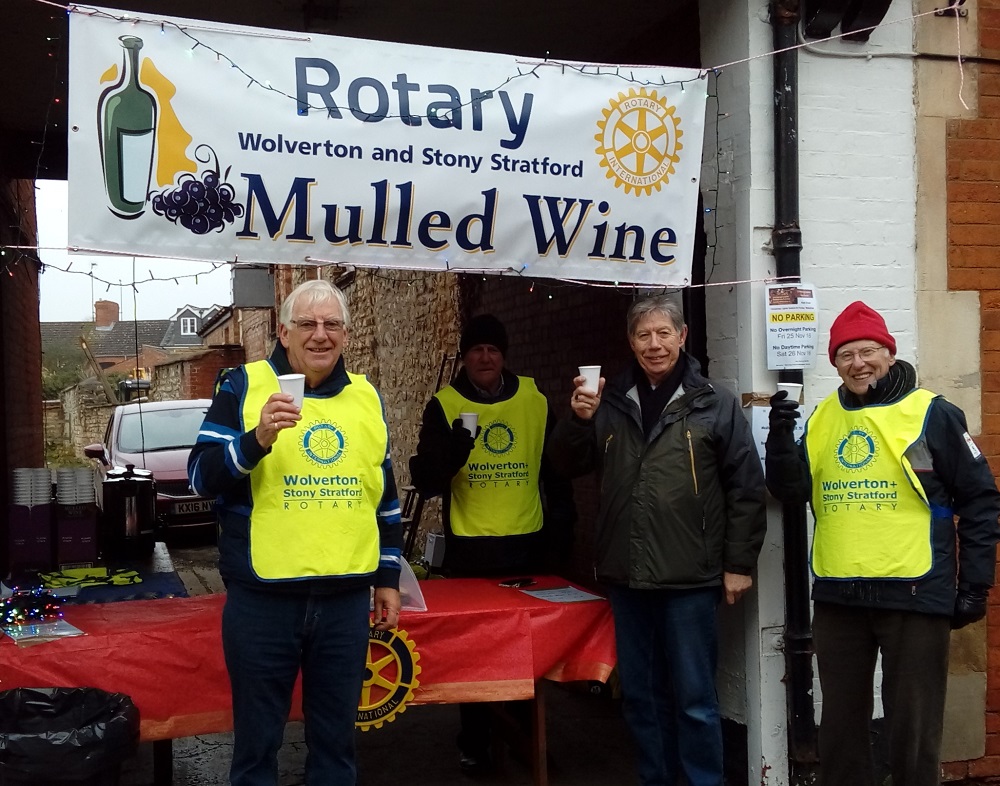 .
Warm Welcome at Stony Lights Fayre
We were rushed off our feet dispensing mulled wine and mince pies, plus the occasional shot of brandy, to the general public at the Christmas Lights Fayre in Stony Stratford on 26th November 2016. We smashed last year's record by raising a profit of £1,600 which will go towards local good causes. Thank you everyone for your fantastic support in particular Barry Love and his organising committee.
.
Tools for Self Reliance
Club members regularly spend an enjoyable evening at the MK workshop of 'Tools for Self Reliance' refurbishing donated old tools for Africa and learning new skills! Our last visit was on 8th March 2017 when we also handed over a donation of £150. Each visit is invariably rounded off with some well earned fish and chips!
.
.
.
Super Sausage Café collection for SERV
.
Pictured above are President Tom, Nick Drury and Simon Webb, together with members of the blood bikes charity, SERV, taking a well earned break from their collection duties on 1st October. Thanks to the generosity of bikers and other visitors to the Super Sausage Café in Potterspury over £300 was collected over the weekend which will go towards our project to buy a brand new bike for SERV.
.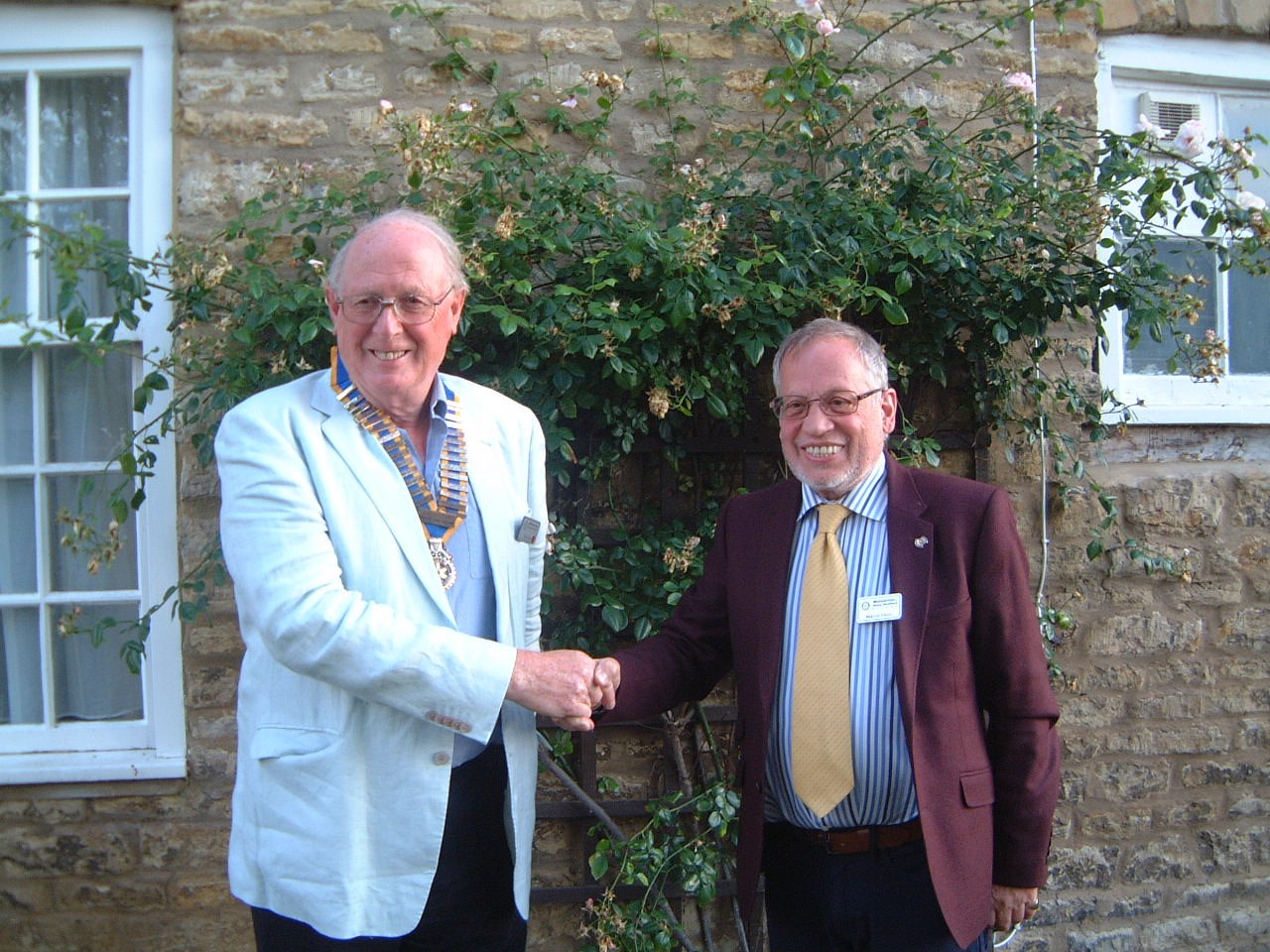 .
New Club President
.
Tom Green has been elected as the new Club President for 2017/18. He takes over from last year's President, Marcus Rixon.
.
It's been another very busy year for the club, which has included the provision of a new sensory room at Walnuts Care in Galley Hill, our annual charity Golf Day and Christmas float collections, and the installation of a new defibrillator in Stony Stratford" commented Marcus as he handed over the chain of office to incoming President Tom.
.
In thanking Marcus for his leadership over the past 12 months, Tom said how much he was looking forward to his year as President. "We are already working on a number of new projects focusing on supporting the community and fundraising for charities and good causes locally, nationally and abroad, with our members enjoying the fun and friendship that being a Rotarian brings".
.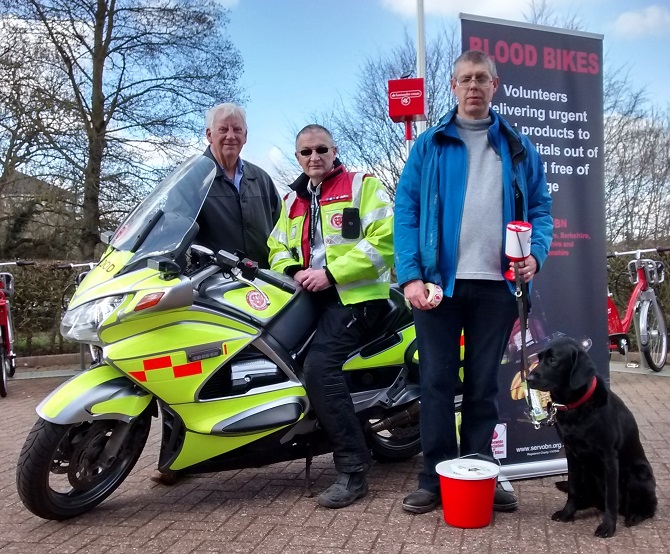 .
Santander Collection for SERV
.
Pictured above are Kevin with guide dog Ellie and Rotarian Barry Love together with Alistair from the blood bikes charity SERV (Service by Emergency Rider Volunteers). Thanks to the generosity of staff from Santander, where Kevin works, the fantastic sum of £1139 was collected on a 'dress-down' day on 24th February. This sum will very nicely kick-start our next big club project, which is to buy a new motorcycle for SERV.
.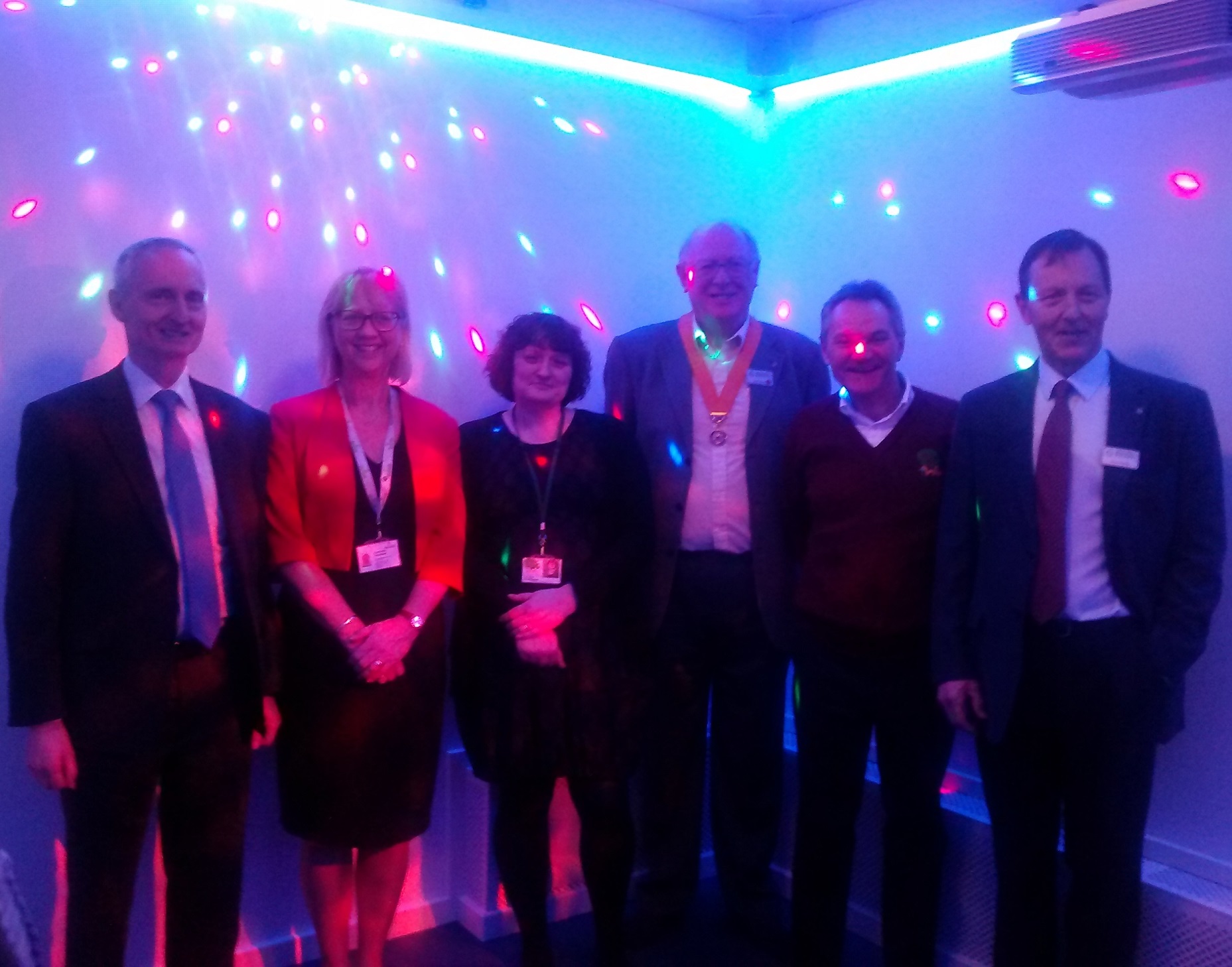 .
New Sensory Room at Walnuts Care
.
A new Sensory Room at Walnuts Care in Galley Hill was officially opened by Milton Keynes Councillor Zoe Nolan, Cabinet member responsible for Children and Families on 16th January.
.
Brimming full of the latest computerised sound and vision technology the specially converted room has been jointly funded by Wolverton & Stony Stratford Rotary Club and the Kids Out charity. Jerry Aldous Manager of Walnuts Care said "We are extremely grateful to the Rotary club and Kids Out; this room is a wonderful addition to our facilities which will enhance the range of services we provide and the experiences of the children and young people we support".
.
Organiser of the project to fund the new room, Chris Byard, said "I am very grateful for the huge support from the Rotary club over the past year. The money was raised from a very varied selection of sources including games night, golf day, district grant, carol service, Christmas float collections, grand autumn prize draw and car boot & internet sales of donated goods. This project will enormously help disadvantaged youngsters to get a better start in life".
.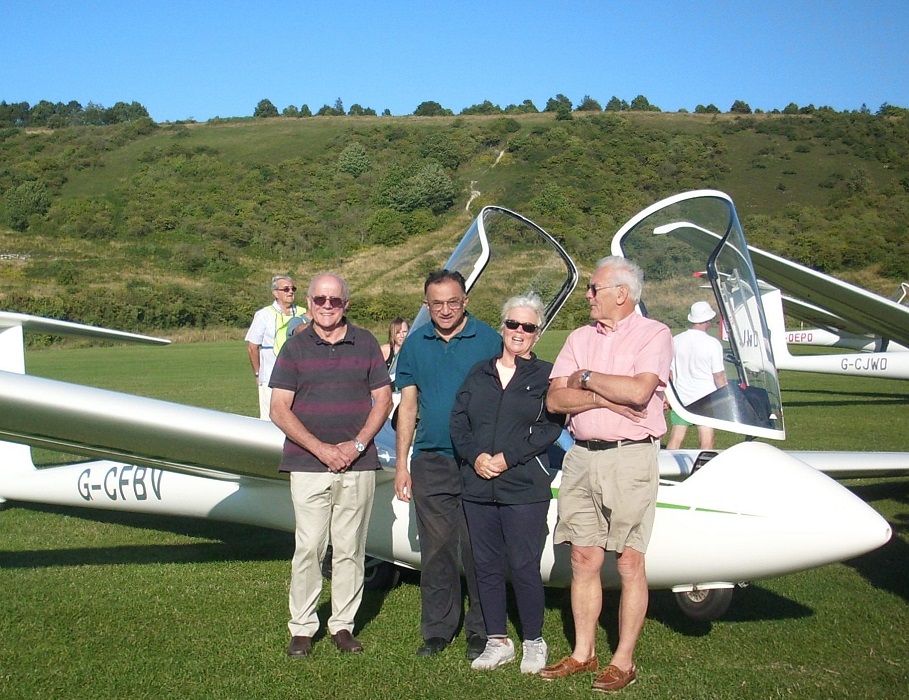 .
Loop-the-Loop has raised over £3,000
.
Now in its fifth year, the sponsored 'Loop-the-Loop' in a glider event organised by Wolverton & Stony Stratford Rotary Club continues to attract more willing volunteers, including this year four members from our own club and Rotary District Governor Chalmers Cursley. A total of 13 flights took place courtesy of the London Gliding Club at Dunstable Downs on Friday 12th August 2016 with each participant experiencing at least one exhilarating full loop in the glider. Half of their sponsorship goes to Rotary's worldwide Polio eradication campaign, the other half to a charity of their own choice. The event was rounded off with the traditional barbecue.
.
Organiser, Rotarian John Moss, said "It was a fantastic evening with perfect weather conditions and a great opportunity for my club to help raise funds for charity. Thank you to everyone who made the event possible, especially all the brave and enthusiastic 'loopers' and their sponsors, and the London Gliding Club and its pilots."
.
Pictured above, left to right, are club members David Hildreth, Indra Patel, Judy Hildreth and David Sansome. "Well, who wants to go first then?"
.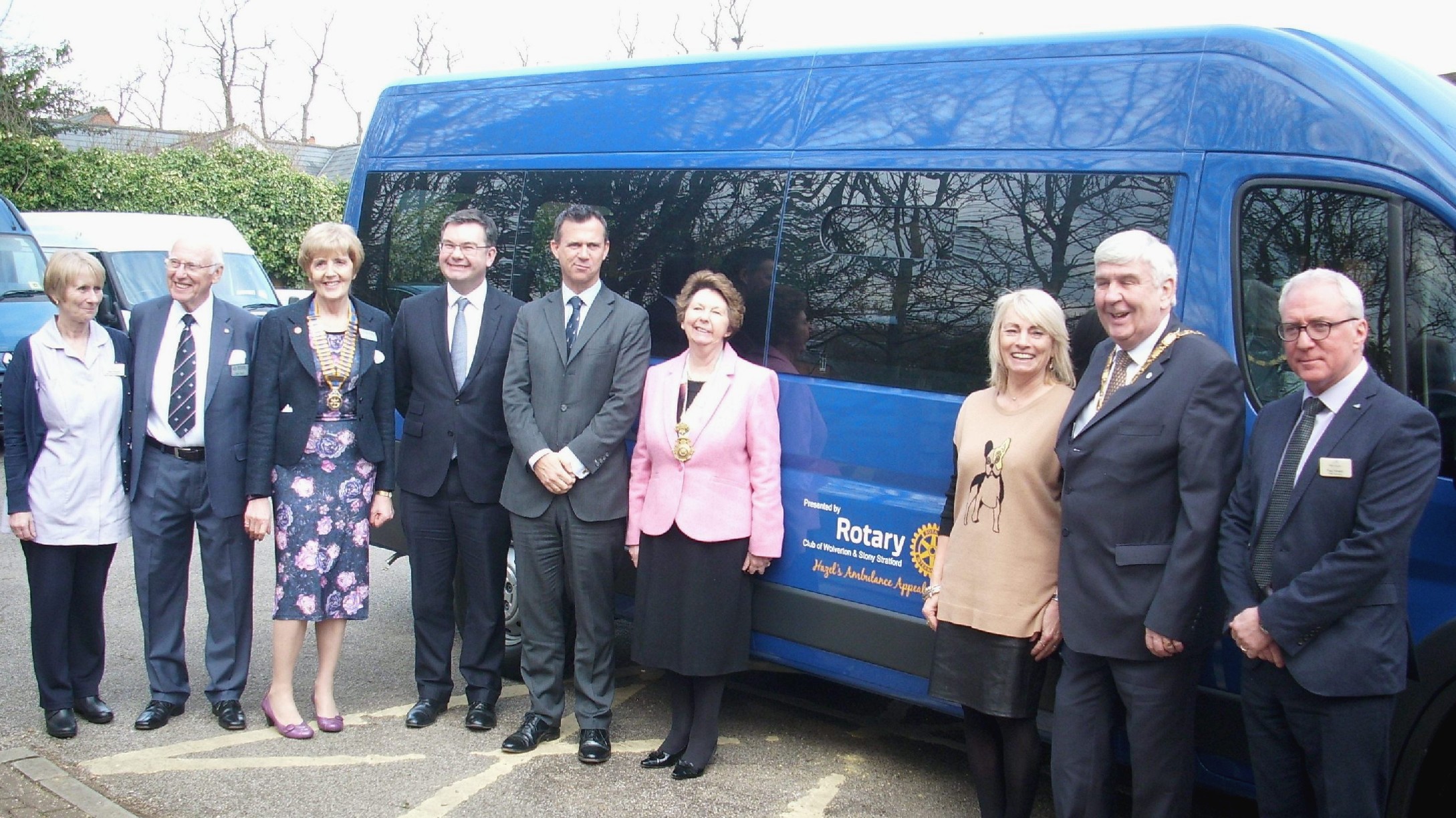 .
Hazel's Ambulance Appeal
Over sixty club members, friends, hospice staff and distinguished guests, including MP's Iain Stewart and Mark Lancaster, Milton Keynes Mayor Councillor Keith McLean and Rotary District Governor Prue Dixon, assembled at Willen Hospice's Wellbeing Centre on Friday 26th February 2016 for the handing over of a brand new ambulance. This was the culmination of our year-long fundraising project in memory of Rotarian Brian Stuart's wife, Hazel, who passed away at the hospice in November 2014.
.
Brian commented "My family and I wanted to do something really special for the hospice and I was so pleased when my fellow Rotarians all agreed that buying a new ambulance for Willen would be a great project, albeit a very challenging one for a club of our size. It has taken just over a year to reach our target of £34,000 through numerous fundraising events and donations. We are extremely grateful for all the help and support received in making this possible".
.
Responding to Brian, Paul Hinson, the hospice's Chief Executive, said "This is a marvellous achievement and I congratulate the Rotary club on all its efforts and dedication to this project. The new minibus will be a fitting and timely replacement for our existing vehicle and will enable us to continue providing an important transport service for the patients who would otherwise have difficulty in getting to and from our Wellbeing Centre, for the various day care facilities we provide".
.
Read all about Rotarian Brian's amazing story in strarting off this project, successfully raising over £7,000, before his Rotary Club adopted and officially took the appeal under its wings with fundraising ventures throughout 2015. For the full story visit:
http://wolvertonandstonystratfordrotaryclub.co.uk/page12.html
.
LATEST NEWS FROM WILLEN
Helen and Bob from Willen talk about their new ambulance. Go to:
https://www.youtube.com/watch?v=BF3yRFdPB7E
.
Going on Holiday?
.
If you are a member of Rotary you can earn 10% commission for charity every time you book with Riviera Travel. Whether you travel as a group, a family or on your own every holiday can earn funds for your club. Request a free brochure from Riviera Travel at: http://www.rtyriviera.co.uk
Please mention our Rotary Club when you book.
.
On-line shopping?
Go on-line with 'easyfundraising' to visit your favourite retailers (over 2500 listed) and raise money at the same time for Wolverton & Stony Stratford Rotary Club (at no extra cost to you).
Visit http://www.easyfundraising.org.uk/causes/rcwss
.
Googling? Try the search engine 'easysearch' instead and raise money for Wolverton & Stony Stratford Rotary
Visit http://www.easysearch.org.uk
.
.